Name: Raul Grijalva
Position: Chairman Congressional Committee on Natural Resources
Connections to China and/or Extreme Leftist Organizations:
Newly confirmed Deb Haaland Secretary of the Interior has authority over more than 20% of US energy resources, plus significant influence over mining, agricultural, forestry, "climate change" and environmental policy.[i]
Even immigration policy may be impacted as a Haaland led Department of the Interior could use Native American land policy or environmental laws to hamper construction of border control infrastructure.
The Accountability Initiative has already revealed Rep. Haaland's rise to power was engineered by senior Communist Party USA (CPUSA) leader Judith LeBlanc.[ii]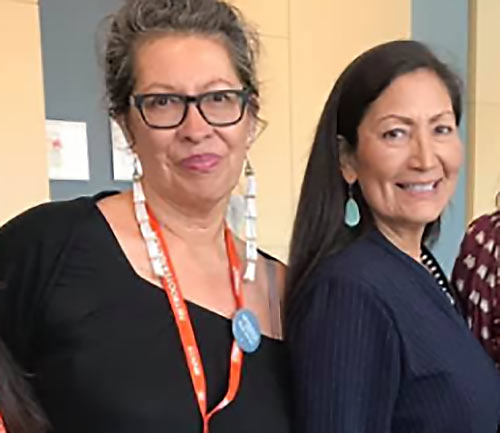 The Communist Party USA is closely allied to the People's Republic of China which is this country's major economic and military competitor.[iii]
If Haaland is nominated she will work closely with Rep. Raul Grijalva (D AZ) the chairman of the Congressional Committee on Natural Resources.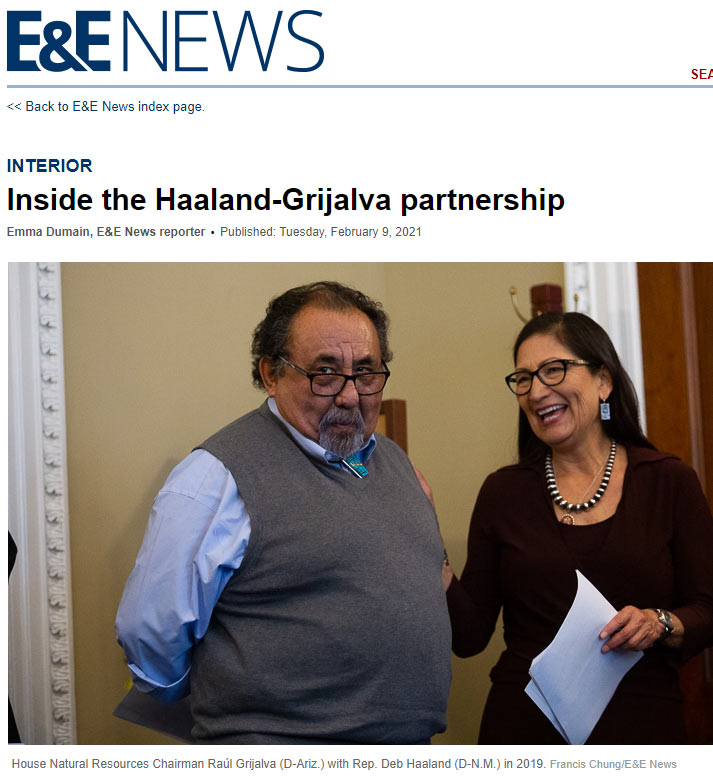 Rep. Grijalva wrote of Haaland, "It is well past time that an Indigenous person brings history full circle at the Department of Interior. As her colleague on the Natural Resources Committee, I have seen first-hand the passion and dedication she puts into these issues at the forefront of the Interior Department from tackling the epidemic of missing and murdered Indigenous women to crafting thoughtful solutions to combating the climate crisis using America's public lands…"[iv]
Rep. Grijalva is a self-proclaimed adherent of famed "community organizer" Saul Alinsky[v] also has deep ties to the Communist Party USA.
In 1993 Raul Grijalva, identified as a member of the County Board of Supervisors for Pima County Arizona, wrote an anti NAFTA article "North America needs 'fair' trade" for the November 13 edition of the CPUSA's People's Weekly World.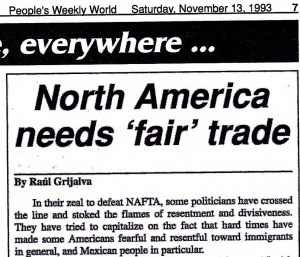 At a meeting of the National Board of the Communist Party USA in South Chicago, on the last weekend of January 2003, an Arizona AFSME activist stated, "Using street heat tactics, all of labor worked to back one candidate Raul Grijalva in Tucson…And we won!"[vi]
Peoples World, November 8, 2003, page 5 said this of Grijalva:
"Nevertheless, here in Tucson, we are gearing up for local elections in 2003 and the presidential election ahead in 2004 by using the same tactics we did in 2002 to get Raul Grijalva elected to Congress.

Congressman Raul Grijalva is proving to be a wonderful voice for the people of Arizona. And our movement and those important connections made during his campaign are still alive in Tucson."[vii]
Communist Party USA leader Judith LeBlanc worked with Raul Grijalva's 2010 Congressional campaign.[viii]
In September 2015, the late Sen. John McCain (R AZ) introduced legislation (S750) to exempt certain projects from environmental protection laws, in order to better enhance border security.
S750, if passed, "would exclude new surveillance installations and other border patrol activities from environmental protection laws. The bill would apply to federal lands within 100 miles of the U.S.–Mexico border in Arizona and parts of California," according to People's World.
Grijalva was apparently willing to work with the CPUSA to stop legislation designed to keep America's borders secure.
Then the senior Democrat in the House's Subcommittee on Public Lands and Environmental Regulations, Grijalva fought back against the proposal.
Rep. Grijalva spoke at a forum co-sponsored by the CPUSA controlled Salt of the Earth Labor College, saying he was "confident regarding the ability to defeat S750 provided people stay aware of it and speak out against it."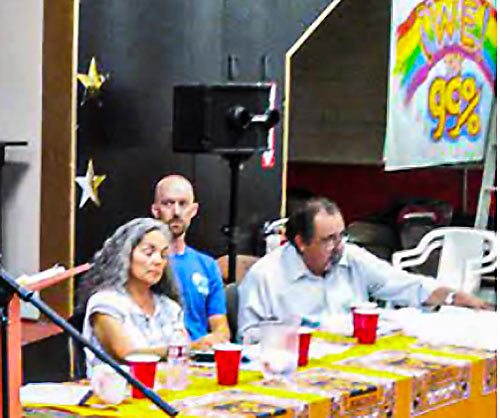 According to a Peoples World report of the event, Grijalva said in part: "It's a two-pronged agenda. … Part of the agenda … [is] to end any legislative hope … that we would end up with something semi-rational in terms of comprehensive immigration reform because this bill is about enforcement only—only enforcement. …
"The other agenda is about attacking bedrock environmental laws that have been on the books for 50, 40, 45 years. … It's both about immigration and the environment and citizen accountability and participation in decision making."[ix]
Houston Communist Party leader Bernard Sampson stated in September 2018: "We aren't like other parties. We are a party dedicated to the overthrow of the capitalist class in this country."[x]
Yet Rep. Grijalva has worked with these Communist Party of China allies for nearly 30 years.
It is difficult to conceive the damage that a Haaland/Grijalva "partnership" could do to the economic, military, and national security interests of the United States.
Citations
---