Name: Deb Haaland
Position Nominated For: Secretary of the Interior
Connections to China and/or Extreme Leftist Organizations:
New Mexico Congresswoman Deb Haaland has been nominated by President Joe Biden to serve as Secretary of the Interior. If confirmed Haaland will oversee the management and conservation of most federal land and natural resources, leading such agencies as the Bureau of Land Management, the United States Geological Survey, Bureau of Indian Affairs, and the National Park Service.
How did an obscure second term representative with little executive experience so rapidly become the leading contender for such an important position?
How does a politician so extreme that she is willing to carry signs for the ANSWER Coalition (a front group[i] for the North Korea[ii] and China-aligned[iii] Party for Socialism and Liberation) merit consideration for ANY US Government position?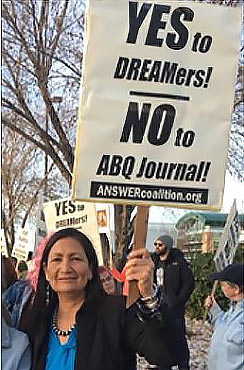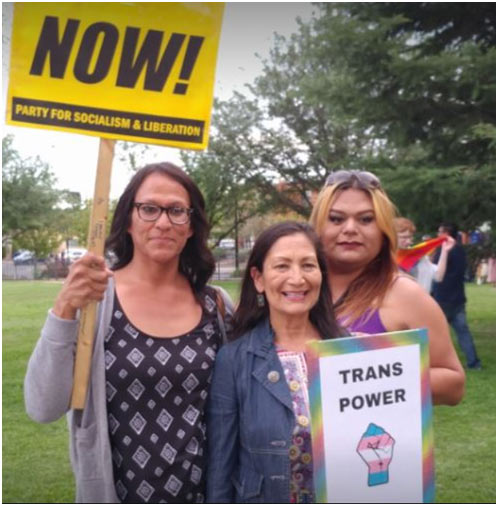 Much of the credit for this remarkable achievement goes to Judith LeBlanc, a leading member[iv] of the Communist Party USA (CPUSA) – which is currently one the Communist Party of China's most important[v]American cheerleaders.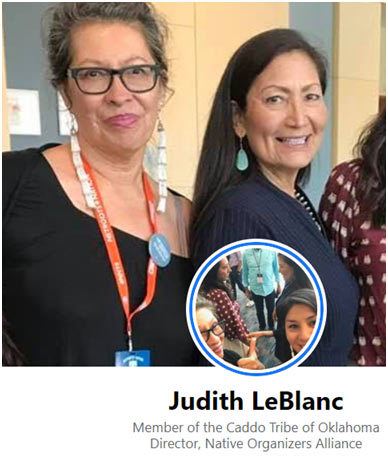 LeBlanc has served[vi] as a CPUSA vice-chair and has been a decades-long member of the party's governing body, the National Committee.
As a one-time chair of theCPUSA's Peace and Solidarity Commission, LeBlanc has travelled[vii] to Australia, Japan, Israel, Lebanon and "Palestine" for meetings with foreign communist, "peace" and terrorist organizations.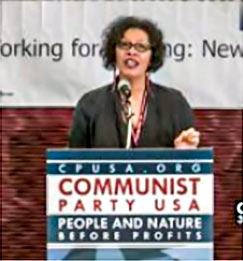 These trips included a 2002 trip to the Middle East[viii]meeting with Palestinian terror leader and known Soviet KGB agent Yasser Arafat.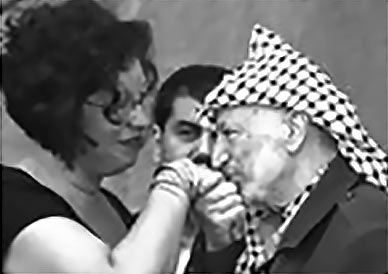 In recent years LeBlanc, (an enrolled member of the Caddo tribe of Oklahoma) has served[ix] as the United Nations representative for the Indigenous World Association.
She has also headed[x] a US-based Native-American activist group the Native Organizers Alliance – through which she apparently established a relationship with fellow Native American Deb Haaland.
This work included a training role in the 2016 protests against the Dakota Access Pipeline on the Standing Rock Sioux reservation in North Dakota. In mid-September 2016, LeBlanc led[xi] a "four-day training at Standing Rock with tribal officials, native-ledon-profits, and local community and political leaders on power mapping, strategic campaign planning, and direct action…"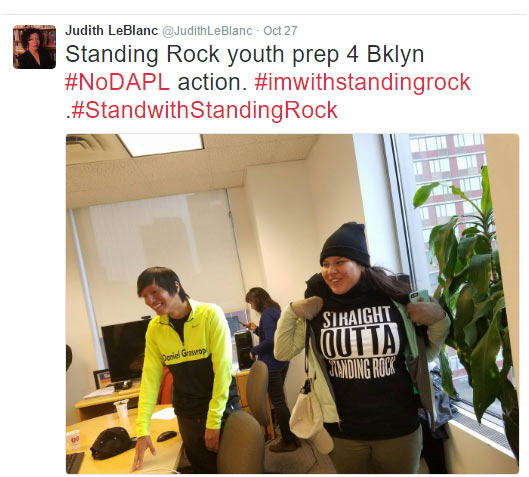 In 2019/20 LeBlanc worked to build on the energy and unity generated at Standing Rock to ensure that large numbers of traditionally low turn-out, yet Democratic-leaning Native American voters went to the polls in 2020.
Working in partnership with the South Dakota-based, Rosebud Sioux-affiliated voter registration organization Four Directions, Inc., LeBlanc's Native Organizers Alliance hosted[xii] the Frank LaMere Native American Presidential Forum on August 19 and 20, 2020 in Sioux City, Iowa.
The whole effort was strategically designed to help the Biden/Harris ticket win the 2020 presidential election.
LeBlanc also told[xiii] Liberation Road-aligned website Organizing Upgrade:
"Four Directions, our sister organization, did research and found there are seven states where the Indian vote would be decisive in determining the outcome of 77 electoral votes. These 7 states include critical Senate races. From that scientific basis, Native Organizers Alliance and Four Directions began to organize traditionally, to reach out to the community groups that we have relationships within those seven states."
"We're also turning our attention to working in those seven states where the Native vote will be decisive. Native Organizers Alliance is working with groups in Wisconsin, Arizona, Minnesota, Michigan, and Nevada. We'll be doing the kind of voter registration, education and mobilization that ensures that our grassroots groups and tribal entities expand their organized base. The day after the elections, we will be ready with a stronger organized, politically empowered grassroots base. …
Through this period Judith LeBlanc and fellow CPUSA leader Libero Della Piana worked and socialized with Deb Haaland.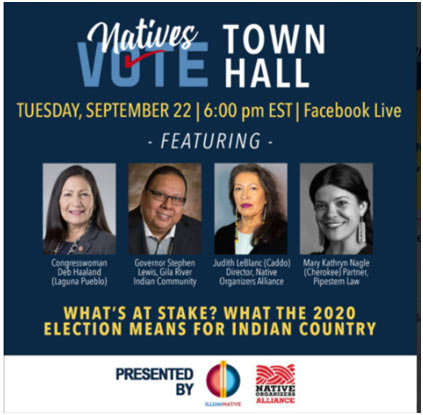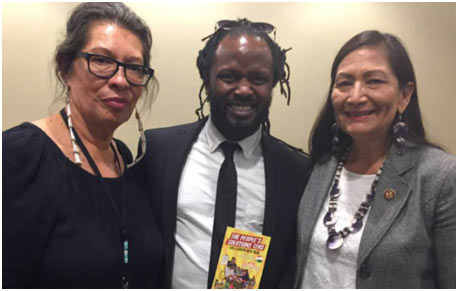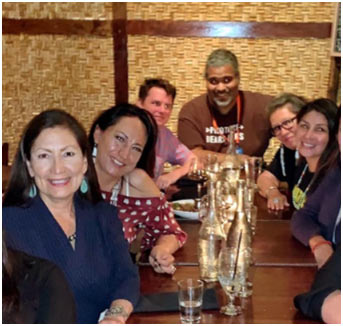 Right after the 2020 election, Judith LeBlanc and Native Organizers Alliance mounted a serious campaign[xiv] to secure Deb Haaland the Interior Secretary nomination.
The organization endorsed Haaland and joined with environmental group 350.org  inlaunching[xv] a petition to encourage President Biden to pick Deb Haaland for his Cabinet.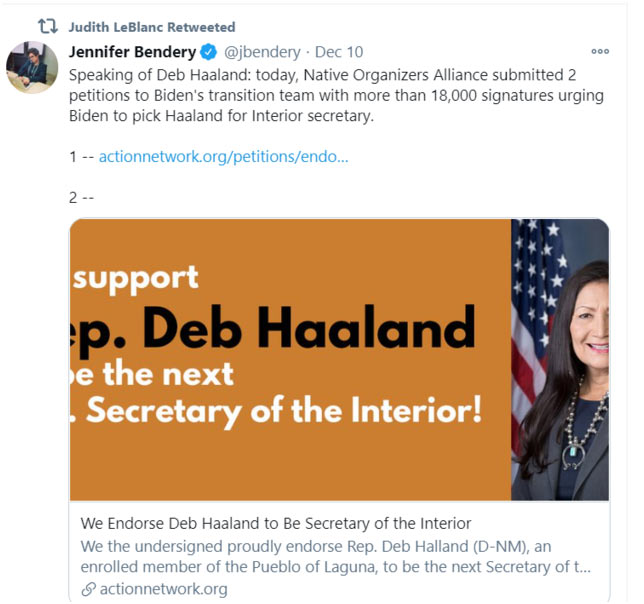 Judith LeBlanc separately joined the second effort called "Women United Deb for Interior."
Besides LeBlanc, other leaders[xvi] of this group include celebrities such as Jane Fonda, Cher,  Chelsea Handler, Alyssa Milano, Sarah Silverman Ai-jen Poo[xvii] of the left-leaning National Domestic Workers Alliance and Gloria Steinem of the North Koreafriendly[xviii] protest group "Women Across the DMZ".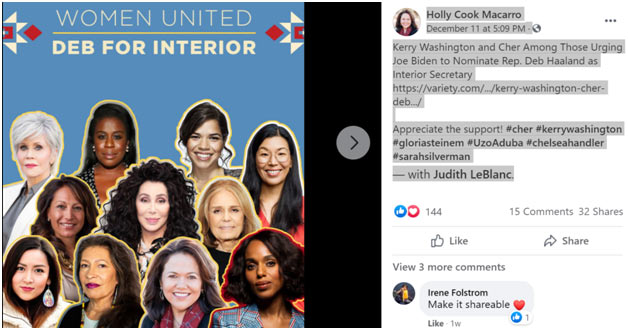 This video confirms[xix]that Judith LeBlanc is the main organizer of the Deb for the Interior campaign.It is also clear that the campaign's goal is to empower Deb Haaland to enact out a far-left agenda as Secretary of the Interior
When President Biden did indeed choose Deb Haaland as his Interior Secretary nominee, Judith LeBlanc told[xx] USA Today:
"What you're hearing across Indian Country is a huge sigh of relief…We just made history. "For the first time, we will have a person sitting in the leadership of the Department of the Interior who understands the responsibility of our ancestors. She understands the sacred, the inherent and the legal right that Indians have to be caretakers of Mother Earth."
December 17, 2020, the day President Biden formally nominated Deb Haaland for Secretary of the Interior, Judith LeBlanc posted[xxi] this gloating picture on her Facebook page with the caption:
Just saying…my gals and I hung out with the next Secretary of the Interior!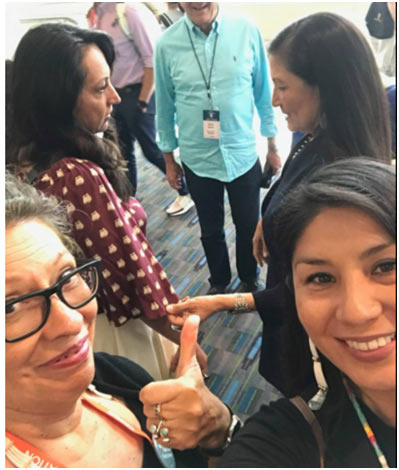 After the collapse of the Soviet Union the CPUSA began looking for a new sponsor. It is now strongly[xxii] in the Communist Party of China camp.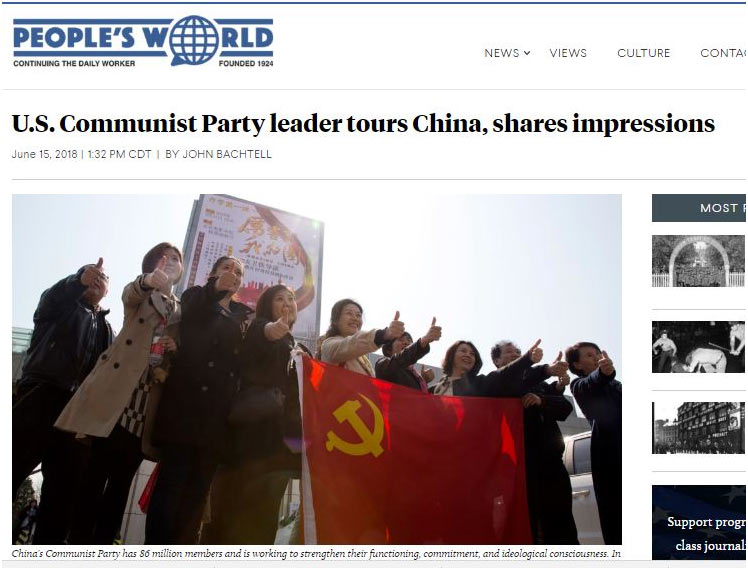 Is the Haaland nomination payoff for CPUSA support with the Native American vote?
Why would pro-China communists put so much energy into catapulting an obscure leftist Congressmember into the Biden Cabinet?
Should any friend of a friend of the Chinese Communist Party be given access to the highly sensitive discussions of the US government leadership?
The Accountability Project calls on President Biden to withdraw Deb Haaland's nomination for this extremely important post.
If President Biden fails to act appropriately, the US Senate must reject Representative Haaland's nomination on national security grounds.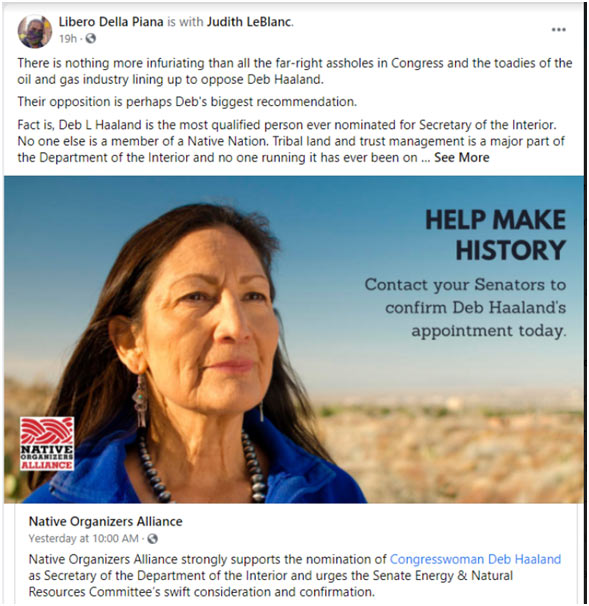 If pro-Chinese communists support Deb Haaland for Secretary of the Interior we need toquestion why.
Citations:
---