The story of Representative Eric Swalwell and suspected Chinese spy Christine Fang has implications way beyond the California Congressman himself. The real story is the near complete lack of action by Democratic Party leaders once Rep. Swalwell's indiscretions were made public.
Eric Swalwell serves on the House Intelligence Committee. He has access to some of this nation's most sensitive information. Yet despite the obvious risks to US national security Speaker of the House Nancy Pelosi refuses to remove Rep. Swalwell from the committee. She has ignored repeated Republican demands to fire Swalwell – the important question is why?[i]
Perhaps it because the giving credence to the Fang/Swalwell could alert the public to the Chinese Communist Party and foreign intelligence ties of several leading California Democrats-including Nancy Pelosi herself.
Axios broke the Swalwell/Fang story and last updated their expose December 8, 2020: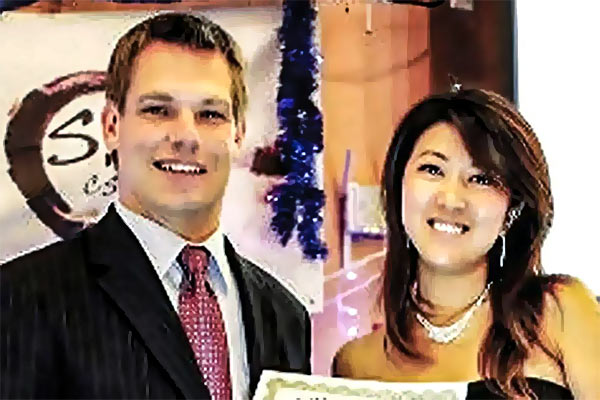 "A suspected Chinese intelligence operative developed extensive ties with local and national politicians, including a US congressman, in what US officials believe was a political intelligence operation run by China's main civilian spy agency between 2011 and 2015, Axios found in a yearlong investigation.

The woman at the center of the operation, a Chinese national named Fang Fang or Christine Fang, targeted up-and-coming local politicians in the Bay Area and across the country who had the potential to make it big on the national stage.

Through campaign fundraising, extensive networking, personal charisma, and romantic or sexual relationships with at least two Midwestern mayors, Fang was able to gain proximity to political power, according to current and former U. intelligence officials and one former elected official.

Even though US officials do not believe Fang received or passed on classified information, the case "was a big deal, because there were some really, really sensitive people that were caught up" in the intelligence network, a current senior U.S. intelligence official said".[ii]
According to Axios, Christine Fang enrolled as a student at California State University East Bay in 2011, where she served as the president of the school's Chinese Student Association and president of the campus chapter of Asian Pacific Islander American Public Affairs (APAPA), a national organization that "encourages Asian Americans to get involved in civic affairs".
"She frequently invited political figures, business executives, and Chinese consular officials to attend the flurry of high-profile events she organized over a period of several years, according to current and former local officials, former students, Bay Area politicos, and social media activity."
Fang helped place at least one intern in Swalwell's Washington DC office, and "interacted with Swalwell at multiple events over the course of several years."
Fang also took part in fundraising activities for Swalwell's 2014 re-election campaign. She acted as a fundraising bundler for Swalwell and other Democratic candidates.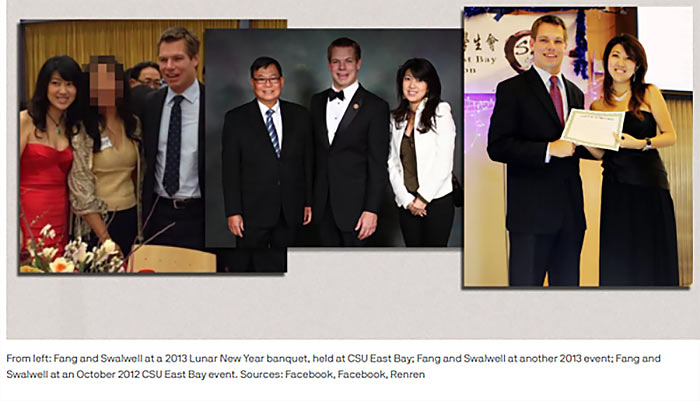 Clearly aware of Fang's activities Federal investigators alerted Swalwell in a "defensive briefing".[iii]
Swalwell immediately cut off all ties to Fang, who promptly left the United States.
According to one US intelligence official Fang's relationship to the San Francisco Chinese consulate had been "especially close".
Other California Democrats targeted by Fang included Bay Area Congressman Ro Khanna and Judy Chu who is based East of Los Angeles in the heavily Chinese San Gabriel Valley.[iv]
Ro Khanna and Fang
Ro Khanna didn't enter Congress until 2016, but Christine Fang apparently got to know him as a campaign volunteer during his unsuccessful 2014 run against Rep. Mike Honda.[v]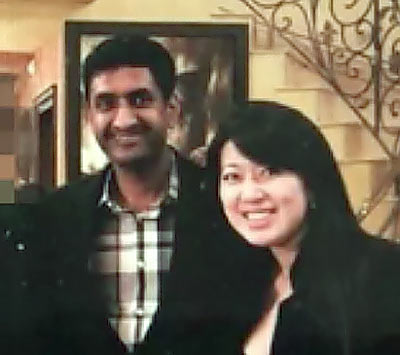 Since 2016 Khanna has distinguished himself as a leader of the Congressional Progressive Caucus and the Democratic foreign policy Left.
When alerted to Fang's activities Khanna issued a statement:
"I respect the need for law enforcement to protect our nation from espionage. [But] we need strict guardrails to make sure the FBI's investigations do not have collateral damage to the privacy of American citizens or to the legitimacy of Asian Americans in this country."
He emphasized his concern about "the chilling effect" of "overbroad surveillance on Chinese American political participation".[vi]
Ro Khanna and DSA
On the domestic front Ro Khanna is extremely close to the country's largest Marxist organization Democratic Socialists of America.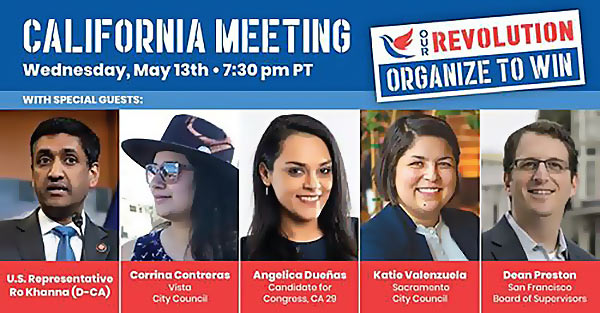 From the Democratic Socialists of America National Political Committee Minutes of Meeting of July 21-22, 2018:
Commentary on National Director' Maria Svart's Report:
"Maria … then summarized her written report.

She reported developing outward relationships through Jose La Luz to Andrés Manuel Lopez Obrador (AMLO) which we can pursue if the NPC wishes, with Congressman Ro Khanna and the Progressive Caucus, in the future with Alexandria Ocasio-Cortez, and with several mainstream progressive groups at a conference on planning responses in case of a national security crisis."[vii]
According to The Mobilizer February 2019 Democratic Socialists of America was behind  a letter Ro Khanna and Pramila Jayapal (D-WA)wrote urging no US military intervention in Venezuela.
"DSA is organizing a congressional campaign. California Democrat Ro Khanna and Washington Democrat Pramila Jayapal are circulating a letter "rejected threats of US Military intervention in Venezuela, supporting dialogue to resolve the political crisis there, and opposing broad economic sanctions that hurt ordinary civilians." The letter urges support for a mediation process advocated by the governments of Mexico and Uruguay to promote dialogue."[viii]
According to the Inland Empire Democratic Socialists of America, in July  2019, DSA rallied its members nationwide in support of Rep. Khanna's bill to end US support for Saudi Arabia's war against Iran backed elements in Yemen.
"URGENT: Tomorrow, Tuesday 7/9, the House Rules Committee will consider whether to allow a floor vote on Rep. Ro Khanna's legislation to end US participation in the Saudi-led war in Yemen (Amendment 339 to the National Defense Authorization Act.) The DSA International Committee urges members to call their reps in support.

The Congressional switchboard is 202-225-3121. You can say something like:

"I urge you to co-sponsor, speak out for and vote for the Khanna-Schiff amendment to end all U.S. participation in the Saudi-UAE war in Yemen. Yemeni kids' lives are hanging on your vote."[ix]
Ro Khanna and Iran
Rep. Khanna seems very sympathetic to Iranian foreign policy goals-such as an end to US support for the Saudi war against pro-Iran elements in Yemen.He also works closely with one of Tehran's key US allies the National Iranian American Council (NIAC).[x]
In 2020 Khanna was one of seven US Congressmembers endorsed by the NIAC Action PAC.
According to NIAC Action PAC fundraiser for Khanna:
"Congressman Khanna is a leading advocate for an anti-war U.S. foreign policy in line with NIAC Action's priorities. He is the champion of efforts to end wars in the Middle East and end unconditional U.S. support for inhumane policies and actors in the region. He is the leader of legislative efforts to prevent war with Iran."[xi]
Tuesday, May 8, 2018 an event was held at Busboys and Poets Brookland, Washington DC.
"What will happen if the US pulls out of the Iran nuclear deal? Are we headed down a path towards war with Iran? What can we do to stop it? Join the conversation and hear the thoughts of our insightful speakers, including:
Sponsors included  CODEPINK, National Iranian American Council (NIAC), Institute for Policy Studies, Progressive Democrats of America, Peace Action, , Just Foreign Policy, ANSWER Coalition and [xii] Democratic Socialists of America.
In September 2018 a NIAC delegation visited Rep. Khanna in his offices.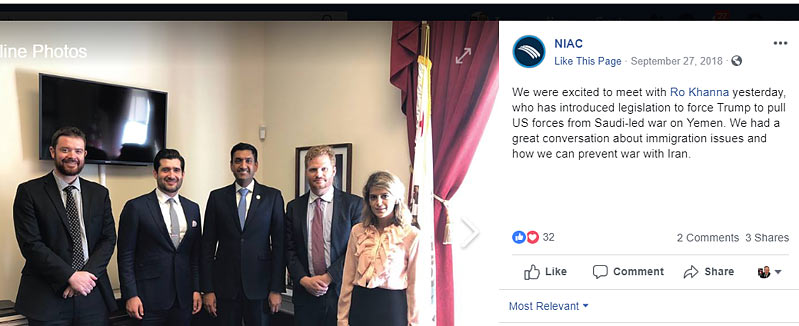 "We were excited to meet with Ro Khanna yesterday, who has introduced legislation to force Trump to pull US forces from Saudi-led war on Yemen. We had a great conversation about immigration issues and how we can prevent war with Iran."
In the Bay Area, Yemeni Alliance Committee members organized rallies calling for an end to the war and the U.S. role in it. They met with California Senator Kamala Harris and Rep. Ro Khanna's office to push for the congressional War Powers Resolution on Yemen — which was ultimately successful, before President Trump vetoed it.[xiii]
In April 2018 Rep. Khanna joined with NIAC, JStreet and CAIR in a protest to block the Senate confirmation of Iran hawk Mike Pompeo as US secretary of State.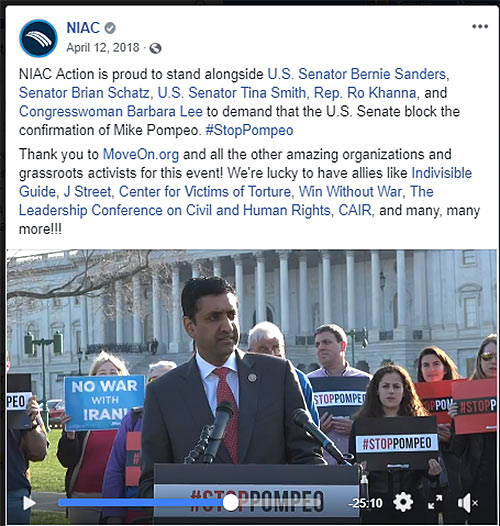 December 2018NIAC worked with Rep. Jared Huffman (D-CA) and a group of 13 lawmakers including Ro Khanna who sent a letter to the State Department opposing US sanctions on Iran.[xiv]
Ro Khanna and Pyongyang's good friend
Khanna works closely with Hawaiian based Christine Ahn, perhaps the leading pro-Pyongyang activist in the country.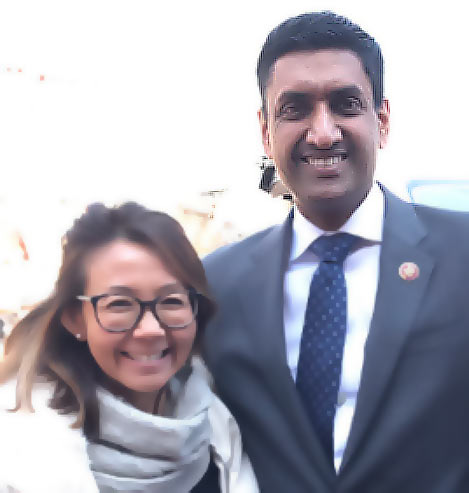 Christine Ahn is the Founder at Women Cross DMZ. Founding Board Member at Korea Policy Institute, and the Korea Peace Network and a columnist at Institute for Policy Studies.
She has addressed the United Nations, U.S. Congress and ROK National Human Rights Commission. Ahn's writings have been published in The New York Times, CNN, and The Nation. She has appeared on Al Jazeera, CNN, Democracy Now!, NPR and Voice of America.[xv]
She has visited North Korea several times since 2004.[xvi]
She is also a long time contact of  Pak Chol, the vice chairman of North Korea's Asia-Pacific Peace Committee. .
Pak was a senior counselor at the North Korean Permanent Mission to the UN for over five years and, according to Ahn, has extensive experience "engaging with international civil society working for peace and unification in Korea."
Since Meeting Pak Chol on her first visit to the NorthAhn has been collaborating With Pak, on various Projects, such as her 2015 "Women Cross DMZ" cross-border march.
In 2015, she met frequently with Pak Chol in New York. "I credit him as the key North Korean diplomat who advocated for the peace walk," she said.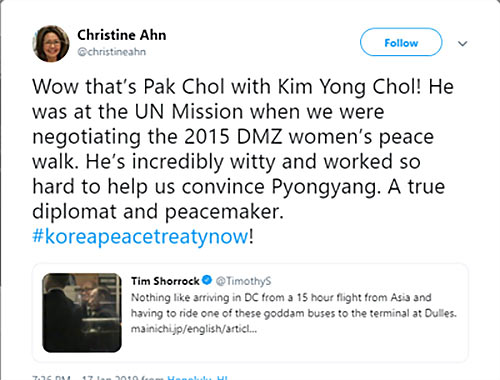 According to Korea expert Joshua Stanton:
"Recently, Pak has surfaced as the right-hand man of Kim Yong-chol, who also doubles as the director of the North's United Front Department, which is responsible for inter-Korean relations.

Kim Yong-chol, who was until recently the head of the Reconnaissance General Bureau and North Korea's top spy, is believed to have directed the sinking of the ROKS Cheonan (46 dead), the shelling of Yeonpyeong Island (four dead), and the Sony cyberattack He also headed the Korean Workers' Party's United Front Department (UFD) until his reported replacement in April of this year." [xvii]
In one email Pak Chol told Christine Ahn. "We have no time for hating and killing each other. We should put an end as soon as possible to all those cold war legacies for good and pull together to tackle our common task."[xviii]
Christine Ahn and her allies in the US and North Korea have been campaigning for several years to pass a Congressional Resolution formally ending the Korean War. This would pave the way for lifting US sanctions and normalizing trade relations with the Pyongyang regime.
Rep. Khanna has worked for years with Ahn and her network in pursuit of this goal.
June 12 2018 Amy Goodman of Democracy Now! interviewed Christine Ahn, founder of Women Cross DMZ; professor BruceCumings of University of Chicago; and Democratic Congressmember Ro Khanna.
In response to recent criticisms of the Pyongyang regime by Senator Chuck Schumer (D-NY) Ro Khanna went so far as to praise president Trump's dialog with North Korean leader Kim Jong-un.
"I agree with Christine and Professor Cumings: This is a very constructive step. Imagine if it weren't Donald Trump there, but if it were Barack Obama there having that kind of breakthrough. I think there would be a reaction from almost every progressive Democrat cheering that on. And Professor Cumings is right. Barack Obama didn't have President Moon as a partner to achieve this. President Moon has really set the foundation for engagement. And Donald Trump, to his credit, in this instance, has taken that opportunity.

My disagreement with Senator Schumer in that letter is that's basically parroting the talking points of John Bolton, saying that we should not engage in any diplomacy or make any concessions without complete denuclearization. That's just not realistic. A far more realistic framework is what Bill Perry has advocated in the 1990s and worked on, which is an incremental approach, where we need to look at our joint military exercises, as the president has, where we need to ask for the cessation of testing, and make concessions on an incremental basis. And that's what I think has begun with this process."[xix]
On June 7, 2018, Rep. Khanna tweeted his criticism of Senator Chuck Schumer's comparatively bellicose attitude to Iran and North Korea.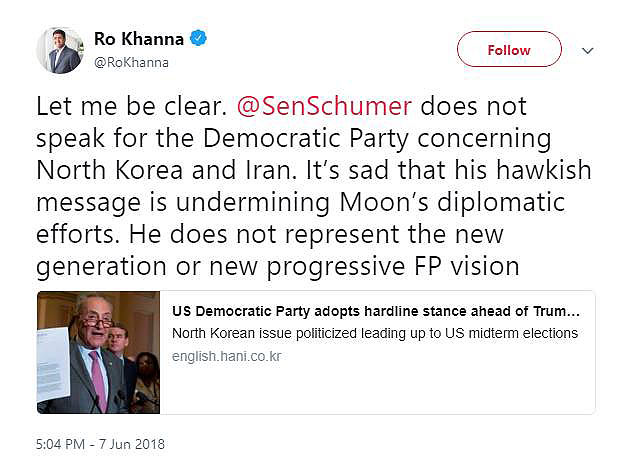 February 28, 2019 — In response to the Hanoi summit meeting between President Trump and Chairman Kim Jong-un ending without an agreement, Kevin Martin, President of Peace Action and Coordinator of Christine Ahn's  Korea Peace Network, released the following statement:
"It's unfortunate that the Hanoi Summit did not lead to an agreement, however, failure to reach an agreement should not be taken as a sign that diplomacy is not working. Diplomacy has done far more to advance the security of the U.S. and the Korean Peninsula than economic coercion and threats of military force. Diplomacy takes time and obviously much more work remains to be done. Members of Congress can help guide the process in a more productive direction moving forward by supporting Rep. Ro Khanna's new legislation calling for the signing of a peace agreement and other important steps to advance the goals of peace and a denuclearized Korean Peninsula."[xx]
July 2019, pro-North Korea activists celebrated the passage of Amendment 217 in the National Defense Authorization Act for Fiscal Year 2020. The historic vote represented"the first time that Congress has taken a stand on the need to end the nearly 70-year-old Korean War."
This amendment, led by Representatives Khanna and Brad Sherman (D-CA), recognizes that "diplomacy is essential for navigating a realistic path forward on denuclearization of the Korean Peninsula, and that a formal end to the Korean War plays a critical role toward that goal".
"This vote is a game changer," said Christine Ahn, Executive Director of Women Cross DMZ. "It's a clear sign that the American people want an end to the oldest U.S. conflict, and that ending decades of hostilities with a peace agreement is the only way to resolve the nuclear crisis."[xxi]
It is little wonder that Chinese agent Christine Fang sought to get to know Ro Khanna.
Citations
---
[iii]

Ibid.
Ibid.
Ibid.
Ibid.
https://centerforsecuritypolicy.org/rise-of-the-iran-lobby-teherans-front-groups-move-on-and-into-the-obama-administration-2/
https://paaia.org/wp-content/uploads/2018/12/12.21.18-Letter-to-Pompeo-re-Iran-Sanctions-Humanitarian-Exemptions.pdf
Ibid.
https://khanna.house.gov/media/in-the-news/rep-ro-khanna-if-us-north-korea-summit-happened-under-obama-democrats-would-be