Name: Marty Walsh
Position for Which Nominated: Secretary of Labor
Connections to China and/or Extreme Leftist Organizations:
Mayor of Boston and Biden Administration nominee for Secretary of Labor Marty Walsh has a troubling history with pro-Beijing organizations.
Could he become Beijing's friend at the Department of Labor?
June 8, 2016, Mayor Walsh announced that Boston would host the 2017 Climate-Smart Low-Carbon Cities Summit.
Mayor Walsh was speaking at the second annual two-day Cities Summit in Beijing. The two-day meeting between local leaders in the two countries is described as "an opportunity to exchange best practices between US and Chinese cities."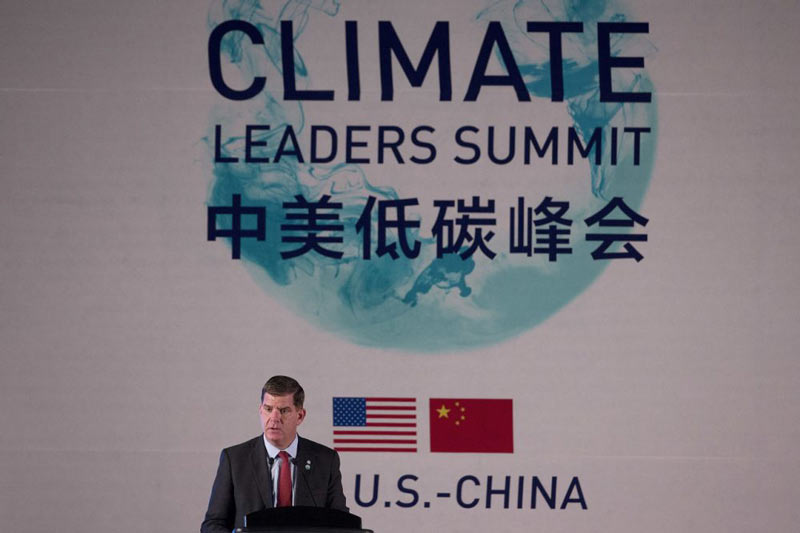 The summit is organized by the C40 Cities Climate Leadership Group, which has grown into an organization of the world's largest cities.
C40 participants believe that, "As part of the climate change problem, cities also have the opportunity to be integral to its solution."
"C40 is making a significant difference in improving the scale and speed of climate action, with 30 percent of all climate actions in C40 being delivered through city-to-city collaboration," says the organization. "Today, nearly 10,000 climate change actions are in effect in C40 Cities, with over 78 percent of actions reported in 2015 planned for expansion."
As vice chair of the group, Mayor Walsh flew to Beijing (with travel expenses paid for by the organization's lead sponsor, Bloomberg Philanthropies) alongside then Secretary of State John Kerry.[i]
The fact that Marty Walsh a supposed champion of the American worker should be involved in such a blatant Chinese Communist party exercise should be no surprise.
Marty Walsh has a history with the pro-Beijing Boston Left.
Boston is a stronghold of US Maoist activism. In the 1970s the. pro-Beijing and mainly white Proletarian Unity League (PUL) was headquartered in the City.[ii] Supporters of a rival pro-Beijing group League of Revolutionary Struggle (LRS)such as Lydia Lowe and Suzanne Lee were  the main driving force behind the influential Chinatown based community group the Chinese Progressive Association (CPA).
By the early 1990s LRS and PUL had united into the Freedom Road Socialist Organization (FRSO).
All of these factions united in Jesse Jackson's Rainbow Coalition of the 1980s and in support of far-leftist Mel King's mayoral campaign of 1983.[iii]
In 2019 FRSO rebranded as Liberation Road. It is the dominant force on the pro-Beijing Left in Boston and has influence in the Chinese Progressive Association, and Right to the City Alliance, which was founded[iv] by FRSO supporter [v]Jon Liss.
Right to the City Alliance played a major role in Marty Walsh's successful mayoralty campaign in 2013.
Says Mel King:
Following its questionnaire to both mayoral candidates, the group (Right to the City) felt Walsh was more responsive to its concerns. Having encouraged these young adults to do this analysis, Mel King joined with them. At our endorsement announcement, I admired their commitment to looking forward and not wallowing in the past.

They saw a candidate who willingly shared parts of his life that indicated he has the capacity for change. He invited them to work with him to make a difference for all the city's residents.[vi]
An allied group Right to the City Vote also backed Walsh's leftist program:
Right to the City VOTE, a new civic action project focused on building power for working class neighborhoods and communities of color, announced today that it has endorsed Marty Walsh in the 2013 Boston mayoral race.

Right to the City Vote leaders cited Marty Walsh's commitment to stabilizing working class neighborhoods, diversifying city leadership, increasing access to jobs, and closing opportunity and achievement gaps for Boston youth. More importantly, the group pointed to his State House record of championing equality for all, workplace and unemployed rights, supporting immigrants, and leading the fight for gun control and programs that address substance abuse.[vii]
In a 2013 statement Right to the City VOTE proudly joined with "leaders from Boston's communities of color…and  Chinese Progressive Political Action to stand with Martin Walsh for Mayor."
A diverse group of civic leaders from communities of color have come together to unanimously endorse Marty Walsh in the race to become mayor of Boston.
We will be working to support the campaign in the upcoming weeks, and we urge people in our communities to elect Marty Walsh as the next mayor of Boston![viii]
Signatories included Lisette Le of Right to the City[ix] and the Chinese Progressive Association and Lydia Lowe also a CPA leader – and a former League of Revolutionary Struggle comrade.[x]
CPA is openly supportive of the Communist Party of China.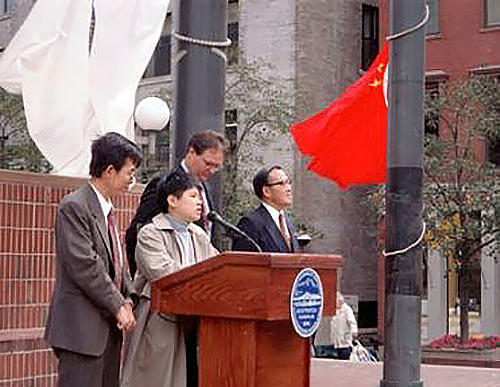 CPA acts as a Chinese passport office for the Chinese Consulate in New York. [xi]
CPA officials celebrated the 2015 Chinese New Year at the PRC consulate in New York.

China Day, co-sponsored by Chinese Consulate General in New York and the Asian-American Caucus of the Massachusetts House of Representatives, was held in the Great Hall of the Massachusetts State House.on October 6,2016.
The CPA and the Confucius Institute at UMass Boston attended the reception.[xii]
CPA is also very much involved in the annual raising of the Chinese flag over Boston Town hall – an event that Marty Walsh, despite regular protests form anti-CCP groups, has continued to support.[xiii]
Since 2014 Mayor Walsh has regularly attended CPA functions. He has a good relationship with president emeritus CPA chairman Suzanne Lee – a past League of Revolutionary Struggle supporter.[xiv]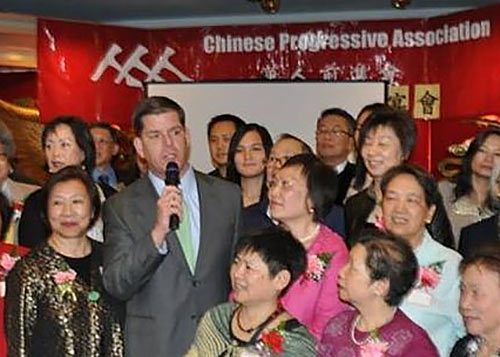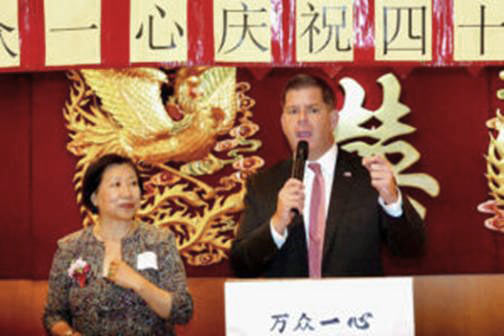 As recently as January 2020 CPA issued a statement thanking him for supporting their rent control campaign.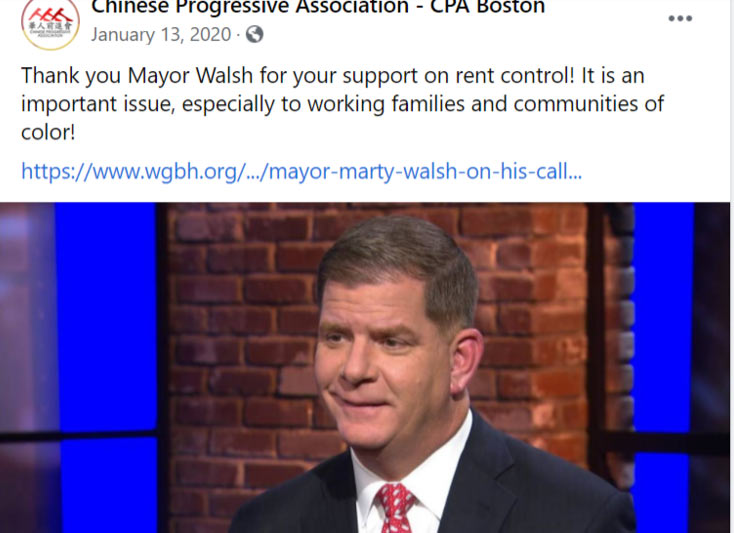 Marty Walsh owes his Mayoralty to pro-Beijing elements. He is clearly willing to cooperate with Chinese propaganda initiatives.
The interests of American workers are diametrically opposed to those of the Chinese Communist Party.
How can Marty Walsh be a credible champion of American workers while cooperating with the CCP and its American allies?
Citations:
---
https://www.csmonitor.com/Environment/2016/0608/Why-Boston-was-chosen-for-the-next-US-China-climate-summit

[iv]

https://www.bostonglobe.com/opinion/editorials/2013/11/17/new-rainbow-coalition-backs-walsh/I7T7Wpp9UgC8Awy1zj4HOK/story.html
https://patch.com/massachusetts/fenwaykenmore/communities-of-color-leadership-group-endorse-marty-walsh-for-mayor-of-boston_30e31dd8
https://www.bostonherald.com/2020/09/30/protestors-slam-martin-walsh-for-flying-chinese-flag-at-boston-city-hall/
East Wind Vol 4 no 1 1983