Bonnie Jenkins
Name: Bonnie Jenkins
Position for Which Nominated: Under Secretary of State for Arms Control and International Security Affairs
Connections to China and/or Extreme Leftist Organizations:
Bonnie Jenkins was nominated by President Biden on January 16, 2021 to serve as Under Secretary of State for Arms Control and International Security Affairs.
She formerly served as the US Department of State's Coordinator for Threat Reduction Programs in the Bureau of International Security and Nonproliferation in the Obama Administration.[i]
She has a history on the hard left of the US foreign policy establishment, including active cooperation with pro-North Korean elements.
Christine Ahn
Bonnie Jenkins is particularly close to long time pro-North Korea activist Christine Ahn.
Now based in Hawaii, Christine Ahn has been active on behalf of the Pyongyang regime since the early 2000s when she was a leading member of the Korea Solidarity Committee.[ii]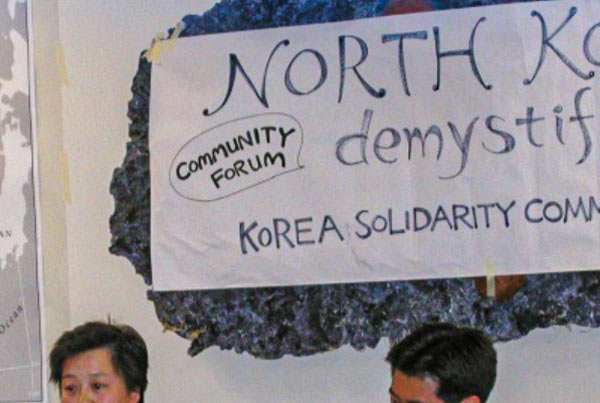 Christine Ahn  co-founded the Korea Policy Institute, National Campaign to End the Korean War, and Korean Americans for Fair Trade.
Ahn has participated in and led several peace and solidarity trips to South and North Korea. She has addressed the United Nations, US Congress and the National Human Rights Commission in South Korea. She is a columnist with the far left Institute for Policy Studies' Foreign Policy In Focus, and her op-eds have appeared in The New York Times/International Herald Tribune, CNN, Asia Times, and the San Francisco Chronicle. She has appeared on Al-Jazeera, BBC, CNN, Democracy Now!, NBC Today Show, NPR, and Voice of America.[iii]
She is also the founder with Gloria Steinem and other leftists of Women Cross DMZ, which serves as a global movement of women mobilizing to end the Korean War, reunite families, and ensure women's leadership in peace building.
With Women Cross DMZ, Ahn led an international delegation of women to march alongside 10,000 Korean women as they crossed the 38th parallel from North Korea to South Korea in 2015.[iv]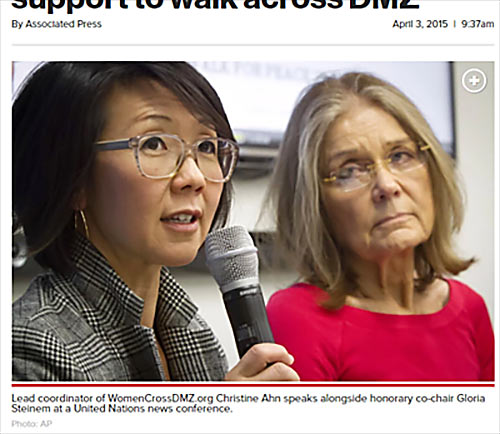 The goal of Women Cross DMZ is to officially end the Korean War, so that US sanctions against North Korea may be lifted – offering a much-needed economic lifeline to the struggling Pyongyang regime.
Christine Ahn has worked with North Korean Pak Chol, the vice chairman of North Korea's Asia-Pacific Peace Committee and widely regarded as a North Korean intelligence officer.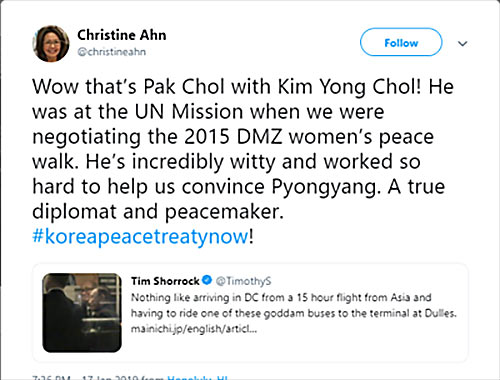 According to The Nation:
A two-hour White House meeting Friday January 18 2019 between President Trump and [Kim Yong-chol], the chief negotiator for North Korean leader Kim Jong-un, apparently cleared the decks for the next phase in the US attempt to convince Kim to give up his nuclear weapons in return for relief from economic sanctions and a new relationship with the United States.

"This meeting shows that Trump and Kim have moved into the diplomatic phase of negotiations, which is a great thing for the people of Korea, North and South," Christine Ahn, the Korean-American founder of Women Cross DMZ, told The Nation. "It's an assurance that renewed conflict is off the table, and that the two sides are starting to define a roadmap that will lead to the end of the 70-year Korean War."

The most telling sign of that progress came in an official photograph of the White House meeting—complete with a new letter from Chairman Kim sitting on the desk—that was distributed by Trump's communications team.

It showed Kim Yong-chol, who is best known as the former director of the Reconnaissance General Bureau, North Korea's notorious intelligence service, sitting in front of Trump's desk with Kim Hyok-chol, North Korea's former ambassador to Spain. Also in the photo are Kim Song-hye, the head of strategy at the United Front Department of the Workers Party of Korea, and Pak Chol, the vice chairman of North Korea's Asia-Pacific Peace Committee…

The presence of Pak Chol in the delegation to Washington was especially poignant to Women Cross DMZ's Ahn. Pak was a senior counselor at the North Korean Permanent Mission to the UN for over five years and, according to Ahn, has extensive experience "engaging with international civil society working for peace and unification in Korea…"

More recently, when Ahn was negotiating with the governments of North and South Korea and the UN Command in Korea for the first women's crossing of the DMZ in 2015, she met frequently with Pak Chol in New York. "I credit him as the key North Korean diplomat who advocated for the peace walk," she said. Pak's presence in Washington with Kim Yong-chol, she added, shows "he has the ear" of Kim Jong-un.

"It heartens me to see that his experience and expertise is so highly regarded and that he can use all of that to help end the war and help transform North Korea," she said".[v]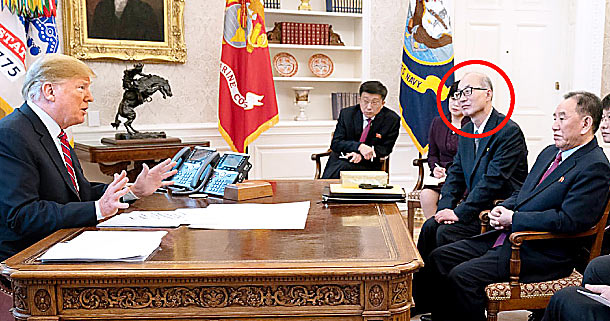 Christine Ahn is clearly connected to the highest echelons of the Pyongyang regime.
Ahn/Jenkins connection
Bonnie Jenkins has very close ties to Christine Ahn's networks.
When President Biden nominated Bonnie Jenkins for Under Secretary of State for Arms Control and International Security Affairs Christine Ahn publicly voiced her approval on Twitter.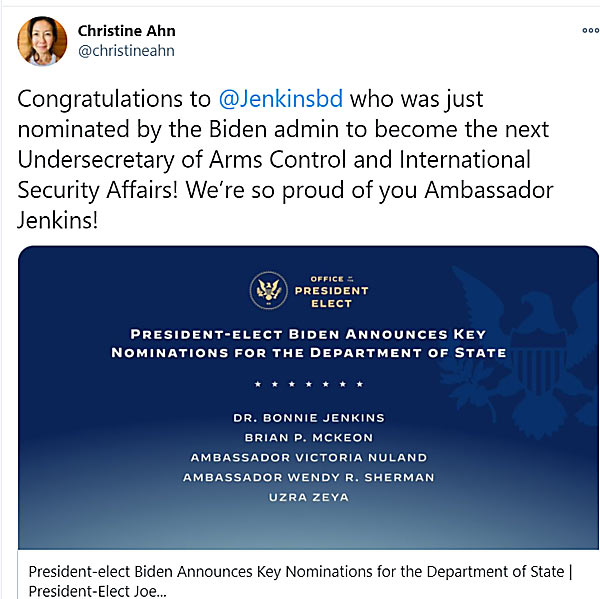 In March 2019 Bonnie Jenkins moderated a panel for the Korea Peace Network's  Advocacy Days. Panelists included Hyun Lee of Women Across DNZ and the Korea Policy Institute and Nodutdol and New York based militantly pro-Pyongyang youth network.
During the inauguration for President Trump on January 20, 2017, Hyun Lee spoke at a rally against U.S. intervention in North Korea organized by the Party for Socialism and Liberation's ANSWER Coalition.
From an article posted at the Korean American National Coordinating Council, Inc. website:
Lee called on the U.S. government to find a peaceful resolution to the crisis on the Korean Peninsula and stop provoking war through military exercises that simulate the collapse of the North Korean regime. She spoke about the need — "now more than ever" — for a peace treaty to end the Korean War and called on U.S. activists and progressive-minded people to support the struggle of the Korean people against war and militarism:

"We hope that you will also stand with us in solidarity when we call for a fundamental resolution to the crisis on the Korean Peninsula, and that includes stopping the war games, that includes ending the Korean War, that includes signing a peace treaty, and finally withdrawing U.S. troops from the Korean Peninsula and the rest of Asia.

"She concluded by chanting, "End the Korean War! Peace treaty now! U.S. troops out of Korea!"[vi]
In April 2019 Christine and Bonnie Jenkins both contributed to a Ploughshares Fund publication entitled "A New Vision: Gender, Justice, National Security."
We are deeply grateful for the collaboration of foundations that made this report possible. Together, Our Secure Future, Compton Foundation, Rockefeller Brothers Fund and Ploughshares Fund assembled this collection because we believe that women's voices belong in national security and nuclear policy, and that now is a crucial moment to learn from experts and advocates like these who have worked tirelessly to effect change in this field."[vii]
Christine Ahn's contribution "Women in the room where it happens" Included the lines:
We at Women Cross DMZ believe that the success of any Korean peace process hinges on two key ingredients: a permanent peace settlement to replace the Armistice Agreement signed by the United States, North Korea and China in 1953 and the inclusion of women at all levels of the peace process."[viii]
Ambassador Bonnie Jenkins's contribution "Diversity Makes Better Policy" also seems to argue that gender diversity is essential when dealing with serious foreign threats:
The global community is faced with increasing global threats; now more than ever foreign policy and security decisions need different perspectives. Current interest in more diverse, equitable and inclusive organizations within the Washington, D.C. landscape is important, but that interest must lead to actual changes that are sustainable over time. Incorporating more diverse staff and leadership at think tanks and other institutions is an effort that requires thoughtful leadership and dedication.

Ensuring these become best practices, incorporated across the whole of the field – particularly within crucial policymaking institutions like think thanks – will lead to better decisions. This will summarily improve the overall policy of the United States by incorporating more individuals' different perspectives, strengths and lived experiences in the process and subsequently the policies themselves."[ix]
In November 2018 Bonnie Jenkins dined opposite Christine Ahn at a DC Working Group of the Women's Korea Peace Campaign.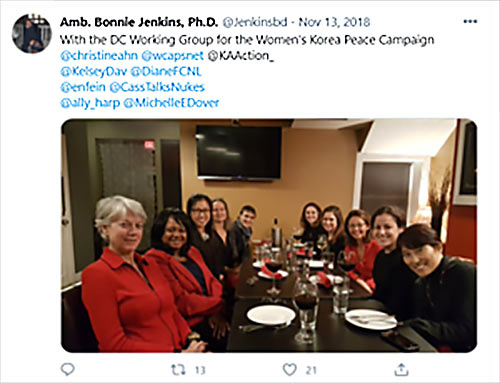 A month later Bonnie Jenkins was in Beijing for the Northeast Asia Roundtable on Women, Peace and Security.
Women peacemakers came together in December 2018 in Beijing to support the Korea peace process and to demand that women have a seat at the peace negotiations' table. Given the critical window for diplomacy, the Roundtable on Women, Peace and Security in Northeast Asia brought together 30 women, including from North and South Korea, the United States, China, Japan, Russia and Canada, to ensure that progress is made towards peace on the Korean Peninsula.

"Women recognize the once-in-a-lifetime opportunity this diplomatic process presents to finally end the 70-year Korean War, which has not just plagued the Korean people but has led to the massive militarization of the Northeast Asia region," said Christine Ahn, founder and international coordinator of Women Cross DMZ.

The historic Roundtable, co-convened by the Nobel Women's Initiative, Women Cross DMZ and the Korean Women's Movement for Peace, helped build and strengthen relationships between the women peacemakers, particularly those from the Korean Peninsula and the countries that participated in the 1950-1953 Korean War. The delegates shared skills and experiences on women and peace andcalled for the inclusion of women in the official Korea peace process. The women, also, discussed collective actions and strategies for advancing peace on the Korean Peninsula and for creating peace mechanisms for the Northeast Asia region."[x]
Besides Bonnie Jenkins and Christine Ahn participants included:[xi]
Anastasia Barannikova – a research fellow at ADM Nevelskoy Maritime State University in Vladivostok, Russia, and a "security expert".
Catherine Killough – USA, the Roger L. Hale Fellow at Ploughshares Fund, where she "researches North Korea's nuclear and missile development and promotes diplomatic solutions to the U.S.-North Korea nuclear crisis."
Hyun-Sook Lee – South Korea is a founding member of Korean Women's Movement for Peace, the honorary representative of Women's Forum for Peace and Diplomacy and a member of President's Advisory Group for the inter-Korean Summit.
Kozue Akibayashi – Women's International League for Peace and Freedom Japan. Kozue Akibayashi was the international president of the Women's International League for Peace and Freedom (WILPF) from 2015-2018. She is a steering committee member of Women Cross DMZ, and a part of the International Women's Network Against Militarism.
Suzy Kim – USA, a co-founder of Women Cross DMZ. She is the Korea specialist for Amnesty International USA, and an advisory board member for Truth Foundation. And a member of the far-left Alliance of Scholars Concerned about Korea.
So-Hyon Yun, Su-Kyong Jong and Yong-Hye Song – all from North Korea and all members of the KoreanNational Peace Committee – a full member of the World Peace Council[xii] Once the former Soviet Union's foremost international front organization,  the World peace Council has taken on a new lease of life under the guidance of various third world communist and "former" East European communist parties.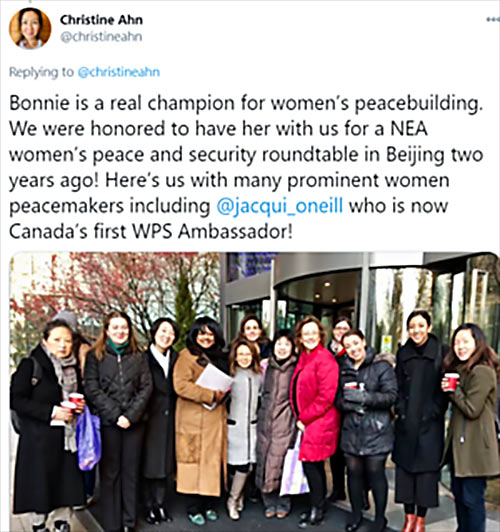 Security risk?
Ambassador Bonnie Jenkins is clearly on the far left politically. She cooperates closely with and appears to be on very friendly terms with Christine Ahn, who is clearly pro Pyongyang in outlook. Christine Ahn has clearly documentable ties to agents and sympathizers of North Korea.
Given these associations would Bonnie Jenkins be able to pass even a rudimentary background security check? Is she fit to be negotiating with the US's most dangerous adversaries when she has a pattern of association with the friends of America's enemies?
Citations
---
https://mndaily.com/265136/news/humphrey-global-policy-fellow-dr-bonnie-jenkins-nominated-to-biden-administration/
Ibid
Ibid