Name: Stacey Abrams
Position: Democratic Politician, Founder FairFight
Connections to China and/or Extreme Leftist Groups:
Georgian Stacey Abrams is undoubtedly one of the most influential non-elected political figures in the United States.
Given the amount of media coverage Abrams gets over claims of alleged "voter suppression" one would almost think she is the Governor of Georgia – despite narrowly losing the race for the Governor's Mansion to Republican Brian Kemp in 2018.
Stacey Abrams runs as an unabashed "progressive" Democrat. However, the definition of "progressive" is very flexible ranging from mildly social democratic to rabidly Marxist-Leninist.  Stacey Abrams gravitates towards the totalitarian end of the "progressive" spectrum.
Johnnetta Cole connection
Stacey Abrams has worked closely with pro-communist academic Johnnetta B. Cole for nearly three decades-mainly on projects to mobilize Black women voters to move America Left.
Dr. Johnnetta B. Cole, former president of Abrams' alma mater Spelman College says she remembers Stacey Abrams as "exceptional."[i]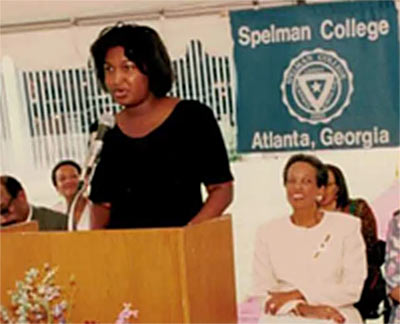 October 19, 2015, Stacey Abrams tweeted:
Happy 79th Birthday to Dr. Johnnetta B. Cole, my friend, mentor and icon! Dr. Cole is a Renaissance leader, whose scholarship and insights have transformed every place and every person she touches. Whether she is helming Spelman College or Bennett College – or guiding the Smithsonian's National Museum for African Art – Dr. Cole's dynamism is matched only by her intellectual firepower and fundamental respect for humanity. We are all made better by her presence.

In March 2020 Stacey Abrams of Fair Count and Johnetta B. Cole of the  National Council of Negro Womenlaunched the "Sisters for the Census" national campaign. The initiative focuses on getting black women and their families to participate in the 2020 Census.[ii]
April 21, 2020 Stacey Abrams was scheduled to join "in an important conversation about her visions for the future of democracy with Johnnetta Betsch Cole, former president of Spelman College".
The discussion is the kickoff event of the Coalitional Democracy Conference, which will focus on ways to build coalitions – across lines of race, gender, class, and sexuality – in order to build a more equal society[iii]
The event was eventually cancelled because of Covid 19.
In January 2021 Johnnetta B. Cole, Stacey Abrams, founder of Fair Fight, and Congresswoman Nikema Williams participated in  a virtual town hall hosted by Oprah Winfrey and sponsored by OWN YOUR VOTE a "nonpartisan get-out-the-vote initiative intended to encourage, inspire and support voters ahead of Georgia's Special Election". The town hall was presented in partnership with Open Society Foundations and the left-leaning Kapor Center.[iv]
In 1992 President-elect Bill Clinton appointed Cole to his transition team for education, labor, the arts, and humanities He also considered her for the cabinet post of Secretary of Education. However, when "The Jewish Daily Forward" reported that she had been a member of the national committee of the Venceremos Brigades, which the Federal Bureau of Investigation had tied to Cuban intelligence forces, Clinton did not advance her nomination.[v]
According to UMass Amherst Libraries:
In 1969, the antiwar activist and former president of Students for a Democratic Society, Carl Oglesby, proposed that the SDS should organize a contingent of American students to travel to Cuba as a gesture of revolutionary solidarity. As guests of the Cuban government, members of what would be called the Venceremos Brigade would go not as tourists, but as workers intending to assist the struggling nation reach its ambitious goal of harvesting 10 million tons of sugarcane for export, allowing them to raise capital to shore up the economy and lessen dependence on the Soviet Union.

Following on the heels of the First Brigade in 1969, the Venceremos Brigade became an annual project, sending thousands of American students over the years to work and to learn about Cuban history and culture.[vi]
From its founding in 1969, the Venceremos Brigade was used by Cuban intelligence agency the DGI, to recruit American agents for use against their home country.[vii]
Johnnetta B. Cole helped lead the Venceremos Bride for several years.
In 1979 Johnnetta B. Cole was one of the five official U.S. guests ]invited to the 20th anniversary of the Cuban revolution by the Central Committee of Cuba. Other guests included Juan Mari Bras, general-secretary of the Marxist-Leninist Puerto Rican Socialist Party and Communist Party USA national chairman Henry Winston.[viii]
In 1976 Johnnetta B. Cole representedthe National Executive Committee of the Venceremos Brigades at a May 28-30, Angola Support Conference held in Chicago. The conference was held to develop a support network for Republic of Angola led then by the Marxist-Leninist MPLA.[ix]
In October 1976 Johnnetta B. Cole is listedas an endorser of a rally and demonstration by the Committee to Stop U.S. Aggression Against Cuba.[x]
On June 6, 1986 Johnnetta B. Cole spoke on "Socialism in Cuba: Lessons for the Americas", at the People's School for Marxist Studies, 235 W. 23rd St.Manhattan.[xi]
In 1979 the Communist Party USA set up a US affiliateof the Soviet frontWorld Peace Council-the U.S. Peace Council. Johnnetta Cole was identifiedas a founder of the US Peace Council and she was named on the "Partial List of Sponsors" of the November 9-11, 1979 National Founding Conference. Cole was electedChairperson, along with four others, of the US Peace Council November 15, 1981, at their second national conference.[xii]
Johnnetta B. Cole was also listed as a member of the Advisory Board of "Rethinking Marxism", a self-described as a quarterly journal of Marxian thought that began publication in Spring 1988.[xiii]
Marxist mentor Steve Phillips
Stacey Abrams is also the protégé of another Marxist, San Francisco lawyer and Democratic party operative Steve Phillips.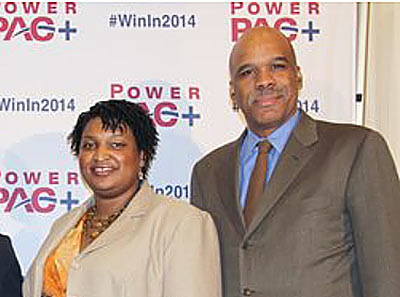 In the 1980s Steve Phillips was a supporter of the Pro-China communist group the League of Revolutionary Struggle. After college Phillips married into the Golden West Savings & Loan fortune which gave the suit-wearing radical access to the upper reaches of the Democratic party and the Democracy Alliance – a coalition of leftist billionaires which includes George Soros and Tom Steyer.[xiv]
Phillips has helped the careers of several "candidates of color" including Barack Obama, Kamala Harris, Senator Cory Booker[xv]and Gubernatorial candidates Ben Jealous) (MD), David Garcia (AZ)), Andrew Gillum (FL)[xvi]and Stacey Abrams.
From Steve Phillips' Political Intelligence blog, December 20, 2012. "The Progressive Case for Cory Booker".
Every progressive person in America should support Cory Booker's campaign for U.S. Senate. Lest there be any confusion on the Left, allow me to make the case for why this needs to be a priority for all progressive-minded people.

First, let me make clear that I come out of the Left. I've studied Marx, Mao, and Lenin. In college, I organized solidarity efforts for freedom struggles in South Africa and Nicaragua, and I palled around with folks who considered themselves communists and revolutionaries (the non-violent type), and I did my research paper on the Black Panther Party. My political baptism was the Jesse Jackson 1984 Presidential campaign, and I've drawn my inspiration from Malcolm, Martin, and Mandela rather than Democratic Party triumvarite of Kennedy, Carter and Clinton.[xvii]
Steve Phillips has supported Stacey Abram's for years through his PAC+, PowerPAC+, Democracy in Color and other avenues. Stacey Abrams was a PAC+ board member.[xviii]
Steven Phillips wrote about how important Georgia is for progressives writing in part:
Building political power in Georgia is critical to taking back our country over the next four years. In the Democracy in Color plan Return of the Majority, we show how Georgia is one of the Frontline States trending Democratic, and how we can win the Georgia governor's office in 2018 and then capture its 16 electoral votes in the 2020 presidential race…[xix]
Stacey Abrams addressed the launch of Phillips' Democracy in Color in Philadelphia in July 2016. Speaking of the event Phillips described Abrams as a "partner in crime".[xx]
PowerPAC.org, the funding arm of PowerPAC+ explains its strategy thus:
PowerPAC.org is committed to supporting the civic engagement of voters of color and the election of progressive leaders of color. Much of our strategy is outlined in the book "Brown Is The New White," written by our founder Steve Phillips. Our work involves researching where votes of color can make a difference in races, how demographic trends can affect change in public policy and leadership, and how civic engagement methodologies can change how campaigns are run.

Our work has spanned the nationwide (support for Barack Obama and civic engagement in 18 states in the 2007-2008 cycle) to the small (unseating 18-year conservative incumbents in city races in San Bernardino, CA). Most recently we worked with grassroots activists in Georgia to encourage African American voters to turn out in the CD-6 race in Georgia and to build support for Stacey Abrams' race for Governor there. As we move forward, we will deepen our work in California as well as launching a multi-state initiative to support gubernatorial candidates of color in GA (Stacey Abrams), MD (Benjamin Jealous), AZ (David Garcia), CA (John Chiang), and FL (Andrew Gillum).

Additionally, we are in the process of building a fundraising engine to drive donations by average citizens in low dollar amounts. We think that there is power in crowd-sourcing the support of our communities of color. The voice of the growing economic power of the communities of color must be heard and their power felt.[xxi]

Steve Phillips' wife Susan Sandler personally donated at least $1 million to Stacey Abrams' 2018 Gubernatorial campaign.[xxii]
But that was only the beginning. According to the San Francisco Chronicle:
There's a major Bay Area connection behind the success of Stacey Abrams, who won the Democratic primary for governor in Georgia this week and would be the first African American woman to lead a state in the nation's history if she prevails in November.

Long before liberal pundits and MSNBC jumped on Abrams' bandwagon, she was getting strategic help and money from a small crew of Bay Area political operatives and wealthy donors. She's about to get $10 million more for the general election from that group, headed by San Franciscans Steve Phillips and his wife, Susan Sandler.

To them, Abrams represents what the Democratic Party should be doing to win back red states like Georgia as a way to take control of Congress and the presidency.

The plan: Forget chasing working-class white voters who backed Donald Trump in 2016. Instead, appeal to a coalition that includes people of color, young voters and progressive whites.

Or, as Abrams said on a 2017 episode of my "It's All Political" podcast: Democrats need to spend less time convincing "Republicans to be Democrats instead of getting Democrats to be Democrats."

"This is a seminal moment," said Phillips, a former San Francisco school board member and author of "Brown is the New White: How the Demographic Revolution Has Created a New American Majority." "That's why we're so heavily involved. We see winning 2020 in winning 2018. This is the down payment."

Abrams' strategy won't change in the general election, Phillips said. The key is turning out the potential voters they know — not convincing the ones they don't.

To win in November, Phillips says Abrams must increase turnout among nonwhites by 230,000 — about the margin by which Georgia Democrats have lost statewide races to Republicans in recent years. There are 1.2 million eligible nonwhites who aren't registered to vote in the state, Phillips said. His organization, PowerPAC Georgia, plans to spend $10 million in the general election to move them.

To aid Abrams in the primary, Phillips raised $1.5 million from Bay Area donors including his wife, daughter of billionaire Golden West savings and loan founders Herb Sandler and Marion Sandler; Atherton's Liz Simons (daughter of hedge fund billionaire James Simons); and Oakland attorney Quinn Delaney and her real estate developer husband, Wayne Jordan.

That money helped Abrams match her wealthier opponent's TV ad spending. Much of it was used in areas outside Atlanta where Democrats have run especially poorly because they've been unable to turn out African American and other nonwhite voters in large numbers. PowerPAC's strategy will be the same in November.

In 2007, they supported then-presidential candidate Barack Obama by spending $10 million across 14 states. They were also early backers of Democratic Sen. Kamala Harris' first statewide run in 2010 for California attorney general, and Democrat Cory Booker's winning U.S. Senate run in New Jersey in 2013.
Steve Phillips' and his Democracy in Color remain firmly behind Stacey Abrams' political career.[xxiii]
Liberation Road
Stacey Abrams is also close to Liberation Road (formerly Freedom Road Socialist Organization) a pro-China Maoist group, heavily involved in minority and Democratic party politics in the South.[xxiv][xxv]
Abrams' voter registration organization New Georgia Project works closely with a similar organization the New Virginia Majority which is led by Freedom Road/Liberation Road comrade Jon Liss.[xxvi][xxvii]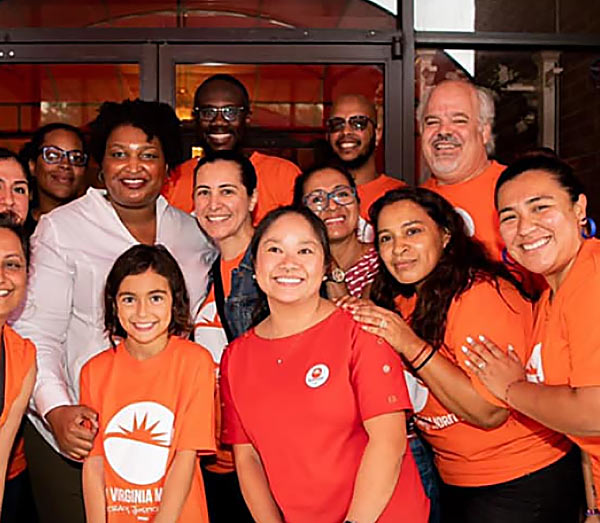 Stacey Abrams also has ties to Cazembe Jackson, who was formerly the Freedom Road Socialist Organization national organizer.[xxviii]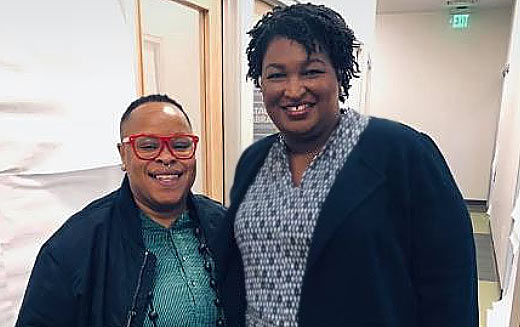 In 2018 the Liberation Road influence Working Families Party collaborated with Abrams' New Georgia Project. Volunteers form two Liberation Road influenced organizations  the Movement for Black Lives' The Electoral Justice Project, and the National Domestic Workers Alliance deployed the largest independent field operation  ever in the hat state – "all this energized young voters, re-energized veterans of the Civil Rights Movement of the 1960s and strengthened the emerging Black-Latino alliance, laying the basis for future wins if Stacey Abrams doesn't pull it out this time."[xxix]
Democratic Socialists of America
Stacey Abrams has enjoyed close ties to this country's largest Marxist organization Democratic Socialists of America for at least a decade.
While serving as the Georgia House minority leader Stacey Abrams addressed a meeting of Metro Atlanta Democratic Socialists of America on February 19, 2011.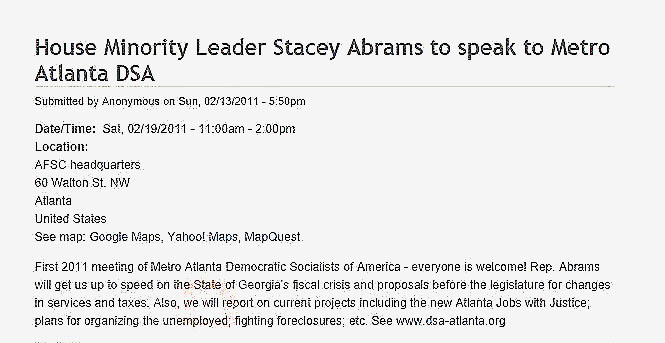 During Abrams 2018 gubernatorial run Metro Atlanta Democratic Socialists of America declined to endorse Stacey Abrams – simply because such open socialist support might have been a liability in conservative Georgia.
However individual DSA comrades were encouraged to work in the Abrams campaign, and many did so.
From Metro Atlanta Democratic Socialists of America September 2018 EQUALITY:
Brian Kemp must not be governor. The Metro Atlanta Democratic Socialists of America stand in solidarity with our fellow Georgians against the government that we have been promised under four more years of Republican leadership. We stand with the workers who work harder than any of the wealthy elite in our state. We stand with those who continue to suffer under white supremacy in the state…

We stand with all of these working families who want Stacey Abrams to be the next governor of this state. For many reasons, we cannot endorse Abrams ourselves, but neither can we stand aside while our friends and allies fight for something they know will make their lives better. We voted to encourage our members, if they feel so moved, to stand up and fight in this election cycle.

Whether it be for a campaign, registering voters, or work against voter suppression, we will support our members in their efforts. After this election, we will be working tirelessly to hold whoever wins accountable to the people of Georgia. They are there to serve us, not multinational corporations or their friends in business.[xxx]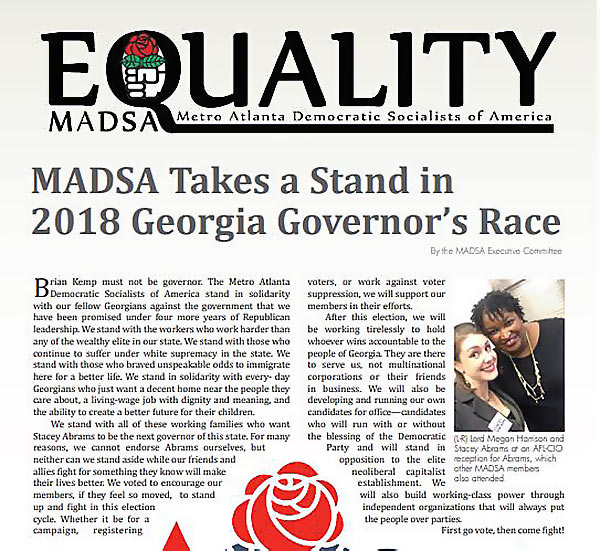 One Metro Atlanta Democratic Socialists of America leader Eric Robertson served on the Abrams campaign while also serving as the Deputy Organizing Director at Stacey Abrams'  New Georgia Project.[xxxi][xxxii]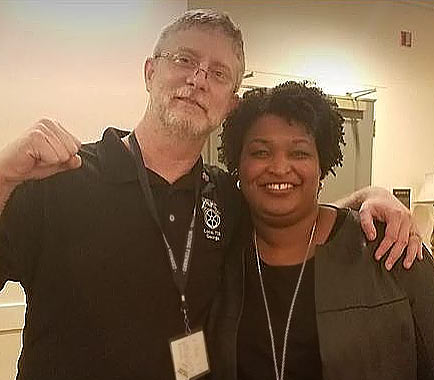 Stacey Abrams owes her entire career to anti-American Marxists.
Citations
---
https://www.becauseofthemwecan.com/blogs/culture/meet-stacey-abrams-the-political-powerhouse-turning-red-states-blue
https://atlantatribune.com/2021/01/04/oprah-winfrey-holds-town-hall-with-stacey-abrams-nikema-williams-and-helen-butler/
 Information Digest November 9 1979 p 340
Venceremos, the newsletter of the VB, VOl 3, No 8, June-July 1976
 Information Digest Jan. 22, 1988
 June 6, 1986, "What's On", "People's Weekly World", p. 10
"Peace and Solidarity" newsletter, USPC, Vo. 4, No.1, Jan-Feb, 1982, p. 1.
Guardian, Feb. 24, 1988
https://www.theepochtimes.com/steve-phillips-meet-the-mega-wealthy-marxist-leninist-behind-four-potential-governors-in-november-2_2639953.html
The Grio Why donors are spending millions to support Stacey Abrams' campaign to become first Black female governor By Kia Morgan-Smith – March 7, 2018
https://podcasts.apple.com/mt/podcast/stacey-abrams-we-have-always-found-a-way-forward/id1119065616?i=1000453829569
https://www.theepochtimes.com/american-maoists-re-brand-focus-on-electoral-politics-target-the-south_3102699.html
https://web.archive.org/web/20160724014852/https://freedomroad.org/2016/07/a-letter-from-our-national-organizer/
EqFINAL9_13_18.pdf