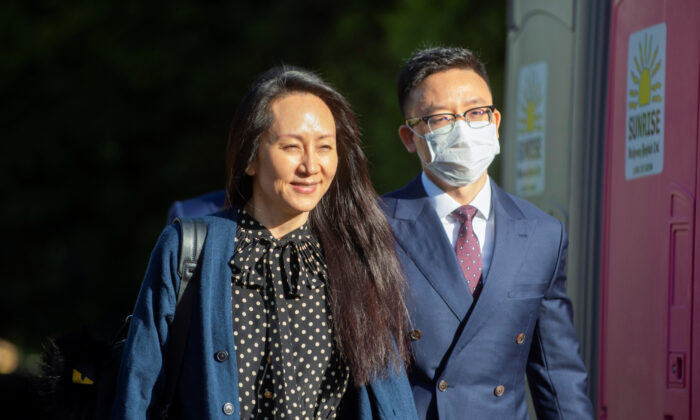 The Biden administration has been soft on communist China from the very beginning.
Such examples include rescinding Trump-era executive orders, which has resulted in economic benefits to the Chinese regime, appointing pro-Beijing apparatchiks who advocate resetting relations with China, and allowing a de facto "hostage swap" for a Huawei executive awaiting extradition to the United States for financial crimes, including fraud.
Huawei Chief Financial Officer Meng Wanzhou entered into a plea deal (a "deferred prosecution agreement") with the U.S. Department of Justice (DOJ) on Sept. 24. According to the statement released from the DOJ Office of Public Affairs, Meng "has taken responsibility for her principal role in perpetrating a scheme to defraud a global financial institution." In admitting her crimes, including knowingly making false statements about Huawei's operations in Iran (which is under U.S. trade sanctions), she agreed "not to commit other federal, state or local crimes."
If she subsequently commits any of these acts, she would be subject to apprehension and prosecution for the deferred crimes listed in the agreement.
And by the way, the U.S. extradition request to Canada that was initiated by the Trump administration was rescinded, allowing Meng to return in triumph to China in exchange for two Canadians being held there, pending trials on trumped-up charges. The DOJ sees no harm and no foul.
Meanwhile, Chinese state-run media, which have been propagandizing for Meng's release since she was arrested in Canada in December 2018, are crowing about her release and their "vindication" for several days. On Sept. 26, the Global Times posted an article that featured a picture of Meng as she "waves to a cheering crowd as she steps out of a charter plane at Shenzhen Bao'an International Airport in Shenzhen, south China's Guangdong Province, on Saturday."
This giving in to Beijing's "hostage diplomacy" is just the latest in a continuing series of the Biden administration's giveaways to the Chinese communists that began virtually from the first day of Joe Biden's presidency.
The precedent for future hostage exchanges with the Chinese regime has now been set: The Chinese Communist Party (CCP) can secure future releases of Chinese citizens by arresting a few unwitting foreigners in mainland China and using them for trade bait for Chinese spies and others who are facing prosecution for real crimes committed in the United States.
It seems the Biden administration has been hard at work in granting concessions to China, starting with various executive orders as well as the appointment of China-friendly apparatchiks, including Secretary of State Antony Blinken and national security adviser Jake Sullivan, to positions from which future giveaways to China can be orchestrated.
The following items are just a few of the Biden administration's gifts to China since January.
Cancellation of the Keystone XL pipeline. On his first day in office, Biden signed an executive order that canceled the Keystone XL pipeline, which would have carried millions of gallons of Canadian oil to refineries in the United States. New regulations in that executive order were also designed to curtail domestic oil and gas production, and since then, the average price of a gallon of gasoline in the United States has increased dramatically, as shown in the chart below.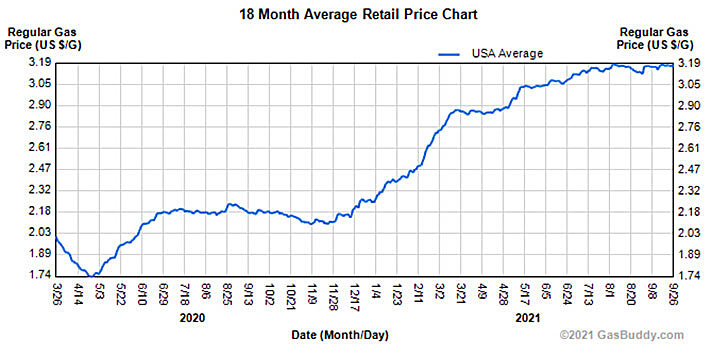 Canceling the pipeline was a direct economic gift to China because higher energy prices make heavily subsidized green tech more economically viable, leading to increased demand for Chinese-built electric vehicle batteries and solar panels. Washington's rejoining the Paris Agreement is also of a piece with increasing China's future sales of green tech to the United States.
Facilitating the Chinese regime's involvement in the U.S. power grid. Buried in that same executive order that canceled the XL pipeline permit was a provision that rescinded President Donald Trump's Executive Order 13920 of May 1, 2020 (Securing the United States Bulk-Power System). The purpose of EO 13920 was to "ban, replace, and set new criteria on bulk-power system (BPS) electric equipment coming from a foreign country or national that poses a national security threat." Envision a future in which Beijing can turn off—or at least disrupt—America's lights in order to obtain geopolitical or economic advantage!
The "xenophobia" memorandum. On Jan. 26, Biden signed a memorandum ostensibly aimed at "combating racism," titled "Memorandum Condemning and Combating Racism, Xenophobia, and Intolerance Against Asian Americans and Pacific Islanders in the United States." A key provision was the direction to federal agencies aimed at "mitigating racially discriminatory language in describing the COVID-19 pandemic." That meant terminating any U.S. government labeling of SARS-CoV-2 as the "China virus"—a major propaganda coup for the CCP, which has been trying to deflect from the known origins of the virus in China since early 2020.
Arms sales frozen to Saudi Arabia and the UAE. On Jan. 27, the Biden administration imposed a "temporary" freeze on arms sales to Saudi Arabia and the United Arab Emirates. As discussed in a previous Epoch Times analysis, a long-term CCP goal is to oust the United States from the Middle East, and freezing arms sales to U.S. allies in the region plays right into the regime's strategy.
Support for the 'one-China' policy. Despite Beijing's forced absorption of Hong Kong and the increasing intimidation of Taiwan by the People's Liberation Army Navy (PLAN) and Air Force, the Biden administration publicly announced continued support for the "one-China" policy. What would Biden do if the Chinese military invaded Taiwan?
Appointment of a pro-China ambassador to the U.N. Biden appointed Linda Thomas-Greenfield as U.N. ambassador. She is on record for praising the CCP's global Belt and Road Initiative (BRI, also known as "One Belt, One Road"), which uses debt-trap diplomacy to capture control of foreign ports and other transportation infrastructure. She was actually paid by the CCP to give that speech at a Confucius Institute event in 2019. Her words will doubtless be "harsh" when warranted, but real actions aimed at confronting communist China at the U.N. will be few and far between.
Revocation of a ban on CCP propaganda in U.S. universities. The Trump-era policy was implemented to "compel primary, secondary, and postsecondary institutions to disclose all contracts and transactions with the Confucius Institute," with noncompliant schools losing their certification for the Student and Exchange Visitor Program. Biden rescinded that policy on Jan. 26, which reopens the door for continued subversion of U.S. colleges and universities through China's Confucius Institutes.
Holds on WeChat and TikTok cases. In February, the DOJ placed holds on two important cases involving Chinese tech companies TikTok and WeChat. The Trump administration had banned the apps for security reasons, including the surreptitious collection of user data and "malicious intentions" by Chinese actors/bots. In June, the U.S. Department of Commerce formally rescinded a list of transactions previously prohibited with TikTok and WeChat, opening the door for CCP subversion of Americans using those apps.
Labeling CCP genocide a "cultural norm." In late February, Biden publicly called the failure of Xi Jinping to speak on the genocide of Uyghur Muslims part of a "different norm." He said, "What [Xi] is doing with the Uyghurs in the western mountains of China, Taiwan, the one-China policy by making it forceful, and he gets it. Culturally, there are different norms in each country and their leaders are expected to follow." One logical interpretation is that Biden provided diplomatic cover for continued CCP aggression in East Turkestan, Tibet, Southern Mongolia, Hong Kong—and even Taiwan in the future.
CCP sympathizer overseeing review of Trump-era China policies. Melanie Hart, Biden's China policy coordinator to the Undersecretary of State for Economic Growth, Energy and the Environment, is leading a team that is reviewing Trump's "Clean Network" Initiative, which encouraged countries to block Huawei from 5G networks. Except that Hart took a trip to China, which was sponsored by the suspected CCP-front China–United States Exchange Foundation (CUSEF), and contributed to a report by the Center for American Progress that "urged closer financial ties and military collaboration" between the two countries. So much for being "tough on China."
The debacle in Anchorage. On March 18 and 19, China's Politburo member Yang Jiechi and Foreign Minister Wang Yi delivered a verbal beatdown to national security adviser Jake Sullivan and Secretary of State Antony Blinken. As expertly summarized by Sinoinsider, the Chinese side's "wolf warrior" diplomacy aimed at promoting the rise of the regime in Beijing across a number of topics discussed, coupled with the decline of the United States and the West in general. And this was on the world stage for all U.S. allies to observe.
Canceling the sea-launched nuclear cruise missile. In June, the Biden administration canceled the U.S. Navy's sea-launched nuclear cruise missile program. This was done despite the rising threat from PLAN ship-launched cruise missiles and hypersonic weapons. The move nips in the bud U.S. efforts to address the Chinese regime's nuclear and conventional missile superiority in the South China Sea, East China Sea, and the Taiwan Strait.
Dropping prosecutions of Chinese nationals accused of espionage. In July, the DOJ dropped cases brought by the Trump administration "against five visiting researchers accused of hiding their ties to China's military, prompting questions about the department's efforts to combat Chinese national security threats," according to The New York Times.
Not backing restitution for "COVID damages" from China. In early August, White House press secretary Jen Psaki stated that Biden wouldn't support the Trump administration's demand for "COVID reparations" from China. The greatest fear of the Chinese regime is that world consensus would develop that Beijing must be required to pay restitution for economic and personal damages wrought by COVID-19. It seems the current administration let China off the hook in one fell swoop.
The gift of Afghanistan's lithium. This is the greatest gift that the Biden administration has given Xi Jinping so far. The U.S. evacuation from Afghanistan has left the Taliban in charge of the country. The Chinese regime is already planning to exploit Afghanistan's estimated $1 trillion to $3 trillion in lithium reserves for Chinese production of batteries and other products. This is a perfect economic coup for the regime as the Biden administration pushes green technologies, especially electric vehicles and EV batteries. The debacle was also a major strategic geopolitical defeat for America, demoralizing U.S. allies in the region by the abandonment of Afghan allies.
Conclusion
On issues large and small, the Biden administration is gift-wrapping policies that favor Beijing. There are many other examples in addition to the above list. The giveaways will continue, as the administration has some political appointees who have been corrupted in the past by bribery from the regime, academic sinecures, and various awards, and who are ready, willing, and able to provide Beijing with a handsome return on its investments.