Name: Jake Sullivan
Position for Which Nominated: National Security Advisor
Connections to China and/or Extreme Leftist Organizations:
Sullivan's background falls into what is now a familiar pattern. He has a long history of association with policies, which have furthered the rise of Communist China, and he has taken considerable amounts of money from entities either funded by the Chinese Communist Party or doing business with it. We are left, as we are with so many other Biden national security team members, to wonder. For which team is Jake Sullivan playing? When he sits down with the Communist Chinese to "negotiate" is his weakness a matter of a lack of intestinal fortitude or is it more a matter of him pursing policies favorable to his real masters?
Sullivan served in the Obama administration as National Security Advisor to Vice President Joe Biden and Director of Policy Planning at the U.S. State Department. During the time that Sullivan was Vice-President Biden's National Security Advisor, Biden was designated by President Obama to be his point man on policy in Asia. Specifically, it was Biden's job to counter Chinese expansionism. The Chinese were in the midst of their island building campaign in the South China Sea.
During this timeframe Biden flew to Beijing with his son Hunter on the now infamous 2013 trip. Joe went to meet with Chinese officials. Hunter went to meet with representatives of the State Bank of China and was handed $1 billion. The sum was later upped to $1.5 billion.
The Chinese continued their island building campaign without interference from the United States.
After leaving the Obama White House, Sullivan became a fellow at the Paul Tsai China Center at Yale Law School. Much like the Biden Center at the University of Pennsylvania where Tony Blinken worked, the Tsai Center is now under federal investigation. It appears the center, and many other elements of Yale University received $375 million from "foreign entities" which was never reported. A great deal of this money is believed to have come from China. Per federal law, universities are required to report all such transactions.[i]
"Section 117 of the Higher Education Act of 1965, 20 U.S.C. § lOllf, requires Yale University to report statutorily defined gifts, contracts, and/or restricted and conditional gifts or contracts from or with a statutorily defined foreign source, to the U.S. Department of Education. These reports are posted at https://studentaid.ed.gov/sa/about/data-center/school/foreign-gifts. It appears Yale University failed to report a single foreign source gift or contract in 2014, 201 5, 2016, and 2017. However, Yale University says it "has a considerable presence abroad, represented by sites in dozens of cities and countries …. [some] operated by Yale or a closely affiliated entity", claims "considerable success" in setting up "jointly run laboratories with Chinese universities … funded by Chinese granting agencies ….", and has solicited and received directed foreign contributions advancing specific religious and ideological priorities. [ii]
Section 117(±), 20 U.S.C. § 101 lf(f), provides that whenever it appears an institution has failed to comply with the law, the Secretary of Education may request the Attorney General commence an enforcement action to compel compliance and to recover the full costs to the United States of obtaining compliance, including all associated costs of investigation and enforcement. The Department is now concerned Yale University' s reporting may not fully capture all gifts, contracts, and/or restricted and conditional gifts or contracts from or with all foreign sources. To meet our statutory duty to verify compliance prior to any potential referral for enforcement action, the Department has opened an administrative investigation of Yale University and requests that you produce the following within sixty days:
1. A list of all foreign sites "operated by Yale or a closely affiliated entity" as described at https://world.yale.edu/sites/default/files/files/International Affairs Report Final.pdf. For each such foreign site, please: (a) Specify the location; (b) specify the operating "entity" ( e.g., the name of the "closely affiliated entity") and describe in detail its financial and legal relationship with "Yale"; ( c) report the "foreign site's" annual budget; ( d) list the name and address of every non-tuition revenue source in excess of $250,000 to each such "foreign site" during each relevant calendar year; ( e) produce true copies of all gifts, contracts, and/or restricted or conditional gifts or contracts relevant to each such foreign site during each relevant calendar year; and (f) for each such foreign site, produce all records of, regarding, referencing, or relating to (i) governance, accounting, auditing, and reporting standards, (ii) Section 117 compliance, and (iii) conditions on curriculum and/or academic freedom. The time frame for this request is August 1, 2013 to the present.
2. Please (a) list all gifts, contracts, and/or restricted or conditional gifts or contracts from or with a foreign source to or for the substantial benefit ofthe Paul Tsai China Center at Yale Law School, the Jackson Institute for Global Affairs a/k/a the Yale Jackson School of Global Affairs, and the "Kerry Initiative"; (b) provide the name and address ofthe foreign source for each such gift, contract, and/or restricted or conditional gift or contract; and (c) produce a true copy thereof. The time frame for this request is August 1, 2013 to the present."
Letter to Yale from the Department of Education[iii]
The letter also asked Yale to disclose records related to Chinese telecommunications companies, Huawei Technologies Co. and ZTE Corporation and to specify whether there were any "conditions imposed or influence on any of the Institution's curriculum, programs, or activities by any foreign source of a gift."
The Department of Education also requested "all records" referencing the Thousand Talents Program, a Chinese science recruitment program, the Office of Chinese Language Council International, and "any university, school or other research entity" in or organized under the laws of China, Qatar, Russia or Saudi Arabia.[iv]
Many of the visiting fellows and faculty at the Tsai Center are professors at Chinese Communist Party run universities, Chinese Communist functionaries and advisers to the Chinese People's Liberation Army.
Per the National Pulse:
Visiting Fellow Li Qiang doubles as the Deputy Secretary-General of the Beijing Military Law Society, Director of the Military Law Institute at the China University of Political Science and Law, and former member on "expert panel on lawfare for the Chinese PLA Air Force" from 2015 to 2020.

One visiting fellow "advised" Chinese Communist Party officials on drafting "rules regarding civil protection orders" in addition to another fellow serving as the Deputy Director-General of the Office of Senior Advisors to the state-run People's Bank of China and Secretary-General of the Financial Research Center in the Office of the State Council.

Another served as a former official in the China Food and Drug Administration, describing himself as "heavily involved in the drafting of policies and laws relating to food and drug e-commerce, among other things" and revealing he is a recipient of Chinese government-backed research grants.
Not surprisingly then, the center tends to tow the Party line. Again according to National Pulse,
Visiting Lecturer and Senior Fellow Jamie Horsley has attempted to absolve the Chinese Communist Party of blame for COVID-19 in a Brookings Institute piece entitled "Let's end the COVID-19 blame game: Reconsidering China's role in the pandemic.

Visiting Lecturer and Senior Fellow Susan Thornton was also one of five academics who penned a letter to the Trump administration insisting that 'China is not an enemy.'
The center also runs a speaking program, which includes a large number of current and former Chinese Communist Party officials.[v]
While serving as a fellow at the Tsai Center, Sullivan also worked as a partner with a firm called Macro Advisory Partners. This firm, like several others which have contributed personnel to the top ranks of the Biden administration, functions as a sort of off the books lobbying firm. Technically, it classifies itself as providing only advisory services and thereby, using a loophole in the law, it avoids having to disclose its clients. As a result, while we know that Sullivan was a senior member of this firm and that it had extensive contact with foreign clients, we have no idea who those clients were or what Sullivan did for them.
We do know conclusively, however, that Macro Advisory Partners did work in China while Sullivan was there. We also know that the firm suddenly scrubbed its website of any reference to work abroad in December 2020 following Joe Biden's election as President. [vi]
While the nature of Sullivan's work at Macro Advisory Partners remains murky, his views on China and our relationship with it remain crystal clear. Sullivan remains completely wedded to the idea that a rising China is a good thing for the world and the United States.
"We helped create the conditions of stability and security in East Asia that allowed China to have this remarkable economic rise. So that it's rising, in a way, is not the failure of American foreign policy; it's the success of creating those stable conditions."

Sullivan 2018
"Let me be clear, that's not about containing China it's about reinforcing the very foundation of regional stability that has among other things facilitated China's remarkable rise over the past several decades," he added.

Sullivan 2017
"We need to strike a middle course – one that encourages China's rise in a manner consistent with an open, fair, rules-based, regional order. This will require care and prudence and strategic foresight, and maybe even more basically it will require sustained attention. It may not have escaped your notice that these are not in ample supply in Washington right now."

Sullivan 2017[vii]
Jake Sullivan' co-leadership with Ben Rhodes in founding National Security Action should also be of grave concern. The duo launched National Security Action in February 2017 as a "progressive advocacy group" to counter president Trump's foreign policy and national security agenda.
The Daily Callerexplained that National Security Action was formed to "focus efforts" on "several key 2018 midterm races."
The largely center-left coalition intends to serve as an advisory group for Democratic politicians interested in countering Republican messaging on national security issues. It is expected to soon announce several key 2018 midterm races where it will focus efforts…

Advisory board member Wendy Sherman, an undersecretary of state for political affairs under Hillary Clinton, says National Security Action will help Democratic candidates appeal to voters by highlighting what she says is a loss of American influence and prestige under Trump.

'There was a need for connective tissue…It's connecting all the progressive groups and citizens that are very concerned about America's place in the world, about our leadership in the world and that are very concerned about the institutions that ensure the rule of law in the world and our security and prosperity.'[viii]
Jake Sullivan was a key architect of President Obama's Mullah-friendly "Iran Nuclear Deal."[ix]
National Security Action has followed a pro-Iranian foreign policy agenda since its inception and can fairly be viewed as a tool of the Tehran regime.
National Security Action is closely tied to the National Iranian American Council (NIAC). Founded in 2002, NIAC is a Washington, D.C.-based lobby that seeks to advance the interests of the Islamic Republic of Iran.
Clare M. Lopez of the Center for Security Policy wrote in 2009 that NIAC is a pro-Islamic Jihad group. "Spearheaded by a de facto partnership between the National Iranian American Council, the Council on American Islamic Relations (CAIR) and other organizations serving as mouthpieces for the mullahs' party line, the network includes well-known American diplomats, congressional representatives, figures from academia and the think tank world."[x]
Iranian state-run media have referred to NIAC since at least 2006 as "Iran's lobby" in the U.S.
Sam Nunberg, director of the Legal Project at the Middle East Forum project, describes the NIAC as an Iranian "front group."
And documents released during the discovery phase of a defamation lawsuit NIAC filed against Seid Hassan Daioleslam, editor of the Iranian American Forum and one of the regime's most public critics, include correspondence with Mohammed Javad Zaif, then Iran's permanent representative to the United Nations.[xi]
Jake Sullivan's partner Ben Rhodes addressed the 2016 NIAC conference alongside NIAC founder Trita Parsi, Congressmembers Dan Kildee (D-MI and Jared Huffman (D-CA) and Joseph Cirincione – now a National Security Action Advisory Board member.According to Ben Rhodes, – "the voice and concerns of the Iranian-American community, in all of its diversity, is a part of civic discussions." – Ben Rhodes | #ObamaFarewell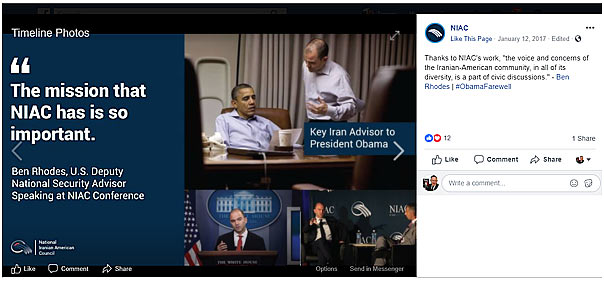 Joseph Cirincione also attended NIAC's April 2014 New York Dinner and fundraiser in his capacity as head of the far-left Ploughshares Fund, which is one of NIAC's "biggest donors and supporters in the fight for the Iran Deal".[xii]
In an unsigned NIAC Action post the organization spoke favorably of Jake Sullivan and other Biden foreign policy officials.
We wanted to share a quick update on recent revelations about who will serve on the incoming Biden Administration's national security team, as well as what to expect in the closing days of the Trump administration.

First, we are very optimistic about Joe Biden's decision to nominate Antony Blinken as Secretary of State and appoint Jake Sullivan as National Security Advisor. Blinken was a long-time Biden adviser and John Kerry's former number two at the State Department during the nuclear negotiations and has consistently supported returning to the JCPOA.

Sullivan helped lead the backchannel negotiations in Oman that led to the interim nuclear deal in 2013 and has written recently on how to engage Iran on twin tracks of nonproliferation and regional security. Both are capable and experienced officials who can step into the job while recognizing the opportunities and restraints involved in serious negotiations with Iran. Moreover, they will be supported by many other seasoned foreign policy officials who helped craft the agreement in 2015 and eager to build on it through diplomacy."[xiii]
In a July 17, 2017 NIAC Action post, Trita Parsi quotes Jake Sullivan on Obama's deal with Iran
Every Obama official I interviewed – as well as their P5+1 colleagues – agreed on this point. Had the US not accepted enrichment, there would never have been a deal, despite the sanctions pressure. "That was the overriding message [the Iranians] were sending," Jake Sullivan explained to me. "We are not going to talk seriously about any kind of nuclear deal that is a zero-enrichment nuclear deal. Period. Period. Period. Period. Exclamation point."[xiv]
Is there any enemy of the United States that Jake Sullivan will not favor?
Citations
---