Name: Linda Thomas-Greenfield
Position for Which Nominated: Ambassador to the United Nations
Connections to China and/or Extreme Leftist Organizations:
Joe Biden has assembled a foreign policy team of individuals with a track record of appeasement. As a group they are highly critical of the United States and its history. At the same time they steer well clear of any criticism of Communist China and, in fact, routinely speak as if reading from talking points put out by the Chinese Communist Party itself.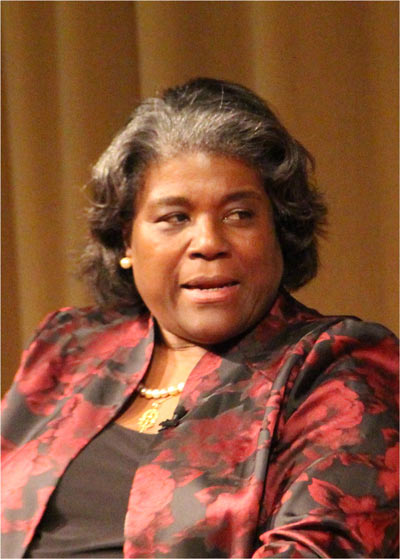 The newest addition to Xi Jinping's Dream Team is Linda Thomas-Greenfield, the new U.S. Ambassador to the United Nations. During her recent confirmation hearing before the Senate Ms. Thomas-Greenfield assured Senators she would take a tough line on China. That seems difficult to believe given her past behavior.
In 2019, Ms. Thomas-Greenfield gave a speech at the Chinese-funded Confucius Institute on the campus of Savannah State University in Savannah, Georgia. The speech focused on China's activities in Africa.
Confucius Institutes are run by the government of China. They operate around the world and, despite efforts to counter their work, are present on dozens of U.S. college campuses. They claim to teach Mandarin and educate Americans on Chinese culture. In fact, they are propaganda arms of the Chinese Communist Party (CCP) focused on shaping foreign perceptions of China.As such they are an integral part of what is known as the United Front, focused on coopting foreign elites and enlisting them to support Chinese foreign policy objectives.
Per the teachings of the Confucius Institutes, there are no slave labor camps in China. There is no forced organ harvesting. Tibet belongs to China and always has. The Uighurs don't exist.
Criticism of the Confucius Institutes in the United States has become intense in recent years. Many colleges have forced them off-campus. The CCP is in the process of rebranding the institutes in order to more effectively covering up their connections to the government in Beijing. This connection between Confucius Institutes and the CCP is well known and has been documented for many years. None of that, apparently, bothered Ms. Thomas-Greenfield when she chose to travel to Savannah and participate in a Confucius Institute sponsored event.
It is not simply that Ms. Thomas-Greenfield chose to attend the event in question and speak, however. What is truly troubling is what she said, which quite literally could have come directly from a propaganda arm of the CCP.
China is a communist nation run by the Chinese Communist Party an entity every bit as brutal, undemocratic and corrupt as anything that ever existed in the old Soviet Union. It enslaves outright tens of millions of ethnic minorities and holds the remainder of the population in brutal subjugation. It does not represent any future any true American should ever desire.There is nothing ambiguous or debatable about any of this.
And, yet none of that is anywhere in the speech given in Savannah. To the contrary, it is clear Ms. Thomas-Greenfield admires communist China and finds much in it that we and the rest of the world should emulate.
"The U.S. should be focused on building a strong partnership with Africa which is based on shared values of peace, prosperity, sustained economic growth and development, and a firm commitment to good governance, gender equity, and the rule of law. I see no reason why China cannot share in those values. In fact, China is in a unique position to spread these ideals given its strong footprint on the continent. All sides should work together to build sustainable growth for Africa and the world."
"China's engagement with the continent is not just economic, it is cultural. Each year, the list of Chinese universities offering scholarships for Africa's brightest students grows. Across the continent, Chinese communities are springing up."
"There is no doubt that China's story of development from an impoverished country to a middle income, industrial powerhouse is attractive to African states who also seek to be better incorporated into the global economic system. China has definitely pushed that narrative and sought to be "Big Brother China" to the continent. As African states seek to learn from the China model, they have turned their gaze to Beijing."[i]
The real mission of the Chinese in Africa, of course, is to exploit the people and steal resources. Nothing Beijing does on the continent has anything to do with development or being a "Big Brother." The Chinese Communist Party intends to steal everything that isn't nailed down, make as much money as possible and move on. It deals with the most corrupt dictators on the continent, sells weapons to anyone who will buy them and cares not one whit about what the overall impact of this is on the hundreds of millions of Africans who suffer as a consequence.That fact that the rest of the world stands by and watches as this occurs is one of the great scandals of modern day diplomacy and international relations.
Yet, Ms. Thomas-Greenfield stood before an audience on U.S. soil, praised the Chinese communist activities on the African continent and delivered remarks frankly more suited to a member of the Chinese foreign service than an American diplomat. This is the woman who Beijing Biden has nominated to speak for you and me at the United Nations.If Biden had chosen a member of the Central Committee of the CCP he would have been unlikely to have found a more full-throated mouthpiece for Chinese Communist imperialism.[ii]
And, it gets worse. It is not simply that Ms. Thomas-Greenfield sings from the CCP songbook in praising China. She does so also in condemning the very nation she is supposed to represent. Speaking recently to Al  Sharpton's National Action Network,Thomas-Greenfield delivered what The Wall Street Journal called, "a recitation of America's sins (that) could have come from China's Global Times."
Said Thomas-Greenfield:
"I have…seen for myself how the original sin of slavery weaved white supremacy into our founding documents and principles…Racism is the problem of the racist. And it is the problem of the society that produces the racist."[iii]

"Because black lives matter, we need to dismantle white supremacy at every turn," Thomas-Greenfield told a UN meeting on International Day for the Elimination of Racial Discrimination in March. "Racism is endemic. It's built in, like a rot in a frame, and it remains, and it festers, and it spreads because many of those in charge allow it to. Others look away and pretend it's not there. But like a cancer, if ignored, it grows."[iv]
Madeleine Albright connection
As of November 2020, Linda Thomas-Greenfield is on leave from a senior vice president position at the Albright Stonebridge Group.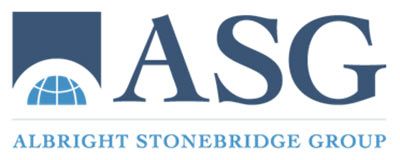 Headed by former Secretary of State Madeleine Albright, the Albright Stonebridge Group has extensive ties to China. [v]The group employs more than a dozen Chinese nationals in senior positions, mainly through its offices in Washington DC Shanghai and Beijing.
The Albright Stonebridge Group's Leadership Team includes Principal Jin Ligang, who formerly served as China's Ministry of Commerce as Deputy Director, Director, and Deputy Director General.  While at the Ministry of Commerce, he was part of the Chinese delegation for talks on China's accession to the World Trade Organization and was directly involved in a series of bilateral talks including U.S.-China market access consultations, IPR discussions, and GATT negotiations.[vi]
Mr. Jin is a member of the Chinese Communist Party.[vii]
Other prominent Chinese nationals on the Albright Stonebridge payroll include:
Dai Yunlou is a Senior Advisor at ASG. From 2000 to 2010, Mr. Dai served as the Minister Counselor for Economic and Commercial Affairs at the Chinese Embassy to the United States. Previously, he served as Deputy Director General of the Department of American and Oceanian Affairs at the Chinese Ministry of Foreign Affairs, and as the First Secretary of the Economic and Commercial Affairs Office at the Embassy.[viii]
Harry Hu is a Director in ASG's China practice, where he advises clients on policy and regulatory issues.
Prior to joining ASG, Mr. Hu spent nearly ten years working at the Chinese Academy of International Trade and Economic Cooperation (CAITEC), a high-profile research institute and think tank affiliated with the Chinese Ministry of Commerce (MOFCOM)..[ix]
Jia Mingru is a Senior Advisor at ASG, where he advises clients on intellectual property and regulatory issues.
Previously, Mr. Jia held several senior positions in the Chinese government, including as Assistant Minister of Culture and Director General at the State Council Legislative Affairs Office. Mr. Jia served as a Chinese representative in U.S.-China Intellectual Property Rights negotiations.[x]
Mu Lan is a Senior Advisor at ASG, where she works to expand relationships with local governments, institutions, and Chinese state-owned-enterprises. From 2001 to 2012, Ms. Mu served as Chief Representative in China for the Port Authority of New York & New Jersey. She also held multiple leadership roles in the Council of American States in China (CASIC), including the organization's Executive Secretary. Prior to her career with the Port Authority, Mu Lan worked as Deputy Director of the Beijing Gehua Cultural Development Group, an organization dedicated to cultural exchange between China and other countries.[xi]
Giving their influential  backgrounds most of the Albright Stonebridge Group' Chinese personnel are probably Chinese Communist Party members or at least  subject to party discipline.
Other concerning Albright Stonebridge Group personnel include:
Yevgeny Zvedre is a Moscow based Senior Advisor of ASG. Mr. Zvedre spent more than 35 years serving in Soviet and Russian diplomatic services, both in embassies abroad and in the Ministry of Foreign Affairs.
Mr. Zvedre served as Science and Technology Attaché at the Embassy of the Russian Federation in Washington, D.C. and as Head of Office at the North America Department and at the Department for International Cooperation in Science and Technology of the Foreign Ministry. In the 1980s and 1990s, he was involved in the disarmament negotiations for START 1 and ABM Treaty compliance.[xii]
Joschka Fischer is a Senior Strategic Counsel at ASG, where he advises clients on issues relating to Germany and the European Union from his Berlin office. Mr. Fischer served as Foreign Minister and Vice Chancellor of the Federal Republic of Germany from 1998 to 2005. He is also currently Managing Partner of Joschka Fischer and Company, a global strategy firm.[xiii]
As a young man Mr. Fisher studied the works of Marx, Mao and Hegel and became a member of the militant group, Revolutionarer Kampf (Revolutionary Struggle). Fischer was a leader in several street battles involving the radical Putzgruppe (literally "cleaning squad", with the first syllable being an acronym for Proletarische Union fur Terror und Zerstorung, "Proletarian Union for Terror and Destruction"), which attacked a number of police officers.[xiv]
Carol Browner is Senior Counselor in the Sustainability practice at ASG,
Ms. Browner served as Assistant to President Obama and Director of the White House Office of Energy and Climate Change Policy, where she oversaw the coordination of environmental, energy, climate, transport, and related policy across the U.S. federal government[xv]
From December 8-12, 2013, the pro-Havana Center for Democracy in the Americas DA organized and led a delegation to Cuba for Carol Browner.[xvi]
CDA gave Caro Browner and award at their 8th Anniversary the following June.[xvii]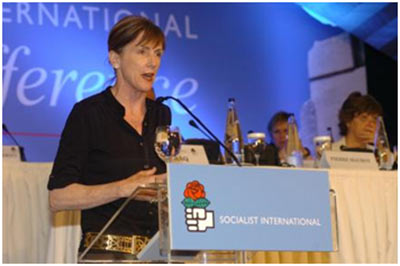 Until late 2008 Browner was a member of Socialist International's Commission for a Sustainable World Society.
According to the Washington Times:
"Until last week, Carol M. Browner, President-elect Barack Obama's pick as global warming czar, was listed as one of 14 leaders of a socialist group's Commission for a Sustainable World Society, which calls for "global governance" and says rich countries must shrink their economies to address climate change".[xviii]
At the time the Socialist International included many "former" communist parties on its membership roster, including the Socialist Party of Albania, Angola's MPLA, Bulgarian Socialist Party, Mongolian People's Party, Mozambique's FRELIMO, Namibia's SWAPO, Poland's Democratic Left Alliance, and the communist controlled African national Congress.
Even the terrorist Palestine FATAH was a full Socialist International member [xix]
The Chinese Communist Party was listed as a "guest" at the XXIV Congress of the Socialist International, Cape Town, 30 August-01 September 2012.[xx]
Incidentally, Madeleine Albright also chairs the board of the National Democratic Institute for International Affairs, which is listed as an Associated Organization of the Socialist International.[xxi]
That Thomas-Greenfield is our new U.N. Ambassador is shameful and reprehensible. At the same time, for an administration that appears more concerned with pleasing Xi Jinping than the American people she is the perfect choice. In her new role she can be counted on to do her real job, managing the decline of the United States and promoting the interests of the brutal, totalitarian regime in Beijing.
Citations:
---